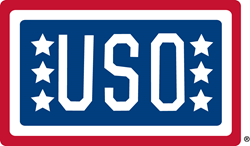 I'm just as excited about this tour as I was about my very first USO tour. It's a great honor for me to be able to meet not just our troops but their families too. -Kamar de los Reyes
Arlington, Va. (PRWEB) February 24, 2014
WHAT: USO/Armed Forces Entertainment tour featuring "Call of Duty: Black Ops II" actors Kamar de los Reyes and James C. Burns
WHEN: March 1 – 8, 2014
WHERE: Hawaii and Guam
WHY: Actors Kamar de los Reyes and James Burns may be best known for their respective roles as 'Raul Menendez' and 'SGT. Frank Woods' in one of the most popular video games to ever hit the market "Call of Duty: Black Ops II," but it's their commitment to honoring our troops the actors are bonding over these days. De los Reyes and Burns are getting ready to set out on their third USO/Armed Forces Entertainment tour together. The duo will spend eight days getting to know the men and women of our U.S. Armed Forces stationed in Hawaii and Guam, and thanking them for their service.
De los Reyes and Burns have made giving back to our troops and their families a priority. Since their first joint USO tour in 2013, which also included "Call of Duty: Black Ops II" actor Rich McDonald, the duo have visited nearly 2,000 troops and military families serving overseas in the United Kingdom, Germany, and the Middle East, which also included a visit to troops serving in Afghanistan.
As part of their continued support of our servicemen and women, the stars are joining the USO's "Every Moment Counts" campaign, and are encouraging Americans to get involved and show their support for our troops and military families. Whether it's taking a moment to send a note of "thanks" or helping to create a moment in the lives of our troops and their families by supporting the USO's more than 50 programs and services, Americans can get involved by visiting USOmoments.org.
QUOTES:
Attributed to Kamar de los Reyes:
"I'm just as excited about this tour as I was about my very first USO tour. It's a great honor for me to be able to meet not just our troops but their families too. It's easy to forget that military families are making big sacrifices and missing out on moments right along side our servicemen and women. It really is the entire family that serves, and so it's the entire family that needs our support."
Attributed to James Burns:
"What I love most about going out on USO tours is the time I get to spend with the men and women of our military, they are a true inspiration. Every moment I share with them, is one that I treasure. And I hope they realize how appreciative America is of the sacrifices they and their families make everyday."
Twitter Pitch: @CallofDuty actors @KamardelosReyes & @jamescburns &@Sgt_Frank_Woods to head out on third @the_USO tour
For more information about the USO, visit uso.org.
About the USO
The USO lifts the spirits of America's troops and their families millions of times each year at hundreds of places worldwide. We provide a touch of home through centers at airports and military bases in the U.S. and abroad, top quality entertainment and innovative programs and services. We also provide critical support to those who need us most, including forward-deployed troops, military families, wounded warriors and families of the fallen. The USO is a private, non-profit organization, not a government agency. Our programs and services are made possible by the American people, support of our corporate partners and the dedication of our volunteers and staff.
In addition to individual donors and corporate sponsors, the USO is supported by President's Circle Partners: American Airlines, AT&T, Clear Channel, The Coca-Cola Company, Grand Canyon University, jcpenney, Jeep, Kangaroo Express, Kroger, Lowe's, Northrop Grumman Corporation, Procter & Gamble and TriWest Healthcare Alliance and Worldwide Strategic Partners: BAE Systems, The Boeing Company, Lockheed Martin, Microsoft Corporation and TKS Telepost Kabel-Service Kaiserslautern GmbH & Co. KG. We are also supported through the United Way and Combined Federal Campaign (CFC-11381). To join us in this patriotic mission, and to learn more about the USO, please visit uso.org.
###