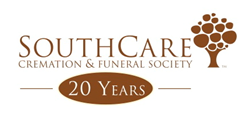 "For 20 years, we've recognized no two life stories are the same. So however you choose to celebrate the life of your loved one, SouthCare will help you plan a service that is as unique as the life that was lived." - Dan Thompson, President, SouthCare
Atlanta, Georgia (PRWEB) February 27, 2014
Since 1994 SouthCare Cremation & Funeral Society has been honored to care for more than 14,000 families throughout the greater Atlanta area and across the state of Georgia. The company's commitment to provide exceptional service and be a resource to those who place their trust in them remains as strong as their commitment to exceed the family's expectations.
For 20 years, SouthCare Cremation & Funeral Society has been a leader in providing cremation services. Operating with complete transparency, SouthCare owns and operates its crematories with certified crematory technicians. Families have the option to inspect the crematory or even witness the cremation which provides peace of mind, knowing that their loved one never leaves the companies care until the family is ready for the final disposition of the ashes.
SouthCare's ongoing collaboration with other caregiving organizations such as hospices, nursing homes, churches and assisted living facilities helps to educate and provide the most relevant end of life information to assist families. This allows families to make more informed decisions by planning ahead and helps simplify the decision making process. SouthCare is committed to giving back to the community. The firm actively supports the North Georgia Hospice Nurse Association. As a long time contributor of this organization, SouthCare assists in providing continuing education opportunities for healthcare professionals to improve service at all levels to families in need.
In their 20th year of operation, the firm recognizes the need to ensure they are providing services that exceed family's expectations. At SouthCare the motto is "your journey should end your way". To enhance this belief the firm is creating a multi-use room. With this change, families will have the flexibility to use the facility in a manner that allows them to celebrate and memorialize in the way that is right for them. The configuration of the room and the personalized options are virtually unlimited. Whether the celebration of life ceremony will be more of a traditional chapel feel or a catered reception with banquet tables, SouthCare will be able to meet the needs of families who want to celebrate the lives of their loved ones. Furthermore, state of the art audio and visual equipment is available to show a life video tribute as family and friends celebrate cherished memories. Whether your preference is cremation or burial, SouthCare can assist with the details and help families arrange a meaningful service that is personalized at an affordable price.
"For 20 years we've recognized everyone is different. No two life stories are the same. Each one is made up of its own defining moments. So however you choose to celebrate the life of your loved one, SouthCare will help you plan a service that is as unique as the life that was lived." - Dan Thompson, President, SouthCare Cremation and Funeral Society.
For more information contact us at SouthCare Cremation & Funeral Society, call 678.735.5500, or email us at info(at)southcare(dot)us.
About SouthCare Cremation & Funeral Society
Since 1994, SouthCare Cremation & Funeral Society™ has served more than 14,000 families in Alpharetta, Marietta, Stockbridge, Atlanta, and across the state of Georgia. As the leading provider of cremation, memorial and burial services in the state of Georgia, SouthCare provides cremation and funeral services that are professional, compassionate and personal. Offering both pre-need and at-need services, SouthCare's mission of creating a personal and memorable service for families while offering affordable options makes it a distinct alternative to traditional Atlanta funeral homes.