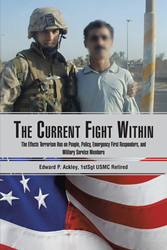 All Americans have a role in preventing terrorism.
Albany, NY (PRWEB) February 26, 2014
According to The Washington Post, since 1970, terrorism has affected almost every part of the United States.
Edward Ackley's "The Current Fight Within" is an informative guide to understanding the effects of terrorism in America. Ackley presents readers with knowledge about terrorism, homeland security, emergency response practices, politics, finance and racism.
"It's an easy-to-read book that provides a basic knowledge of the concerns America is facing," Ackley said.
Ackley, a former police officer and Marine, draws from research and personal experience to open readers' eyes to the duty of each American to protect the United States.
"All Americans have a role in preventing terrorism," Ackley said.
"The Current Fight Within"
By Edward Ackley
ISBN: 978-1-4817-0740-4
Available on Amazon, Barnes & Noble and Author House online bookstores.
About the author
Edward Ackley received his bachelor's degree in emergency management from Ashford University and his associate's degree in fire science from American Public University. After serving in the Marine Corps for more than fifteen years, Ackley continued his career in public service as a police officer and is now pursuing his own LLC opportunity to provide anti-terrorism consultation. He is also a former Department of Defense police officer for the federal government. Edward currently resides in Porter Corners, N.Y., with his wife and two children where he works as a firefighter and emergency medical technician for Greenfield Fire Department.