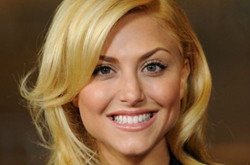 Nothing outside of you can affect you, unless you let it. You gotta close your ears off and not listen to it.
(PRWEB) February 24, 2014
TVRage.com's News Editor, Allyson Koerner, recently chatted with actress Cassie Scerbo about her latest role as snarky Heather on 'Baby Daddy.' Scerbo also opened up about her catty characters, helping an anti-bully organization and how others can stand up to bullies.
Here's an excerpt from the interview:
"TVRage: Now, you're known for playing the pretty blonde who's snarky. Do you enjoy playing that type of character?
Scerbo: It's so funny -- I feel like that's always a question asked. I'm like, "I know, it's so terrible. I do. I always play these snarky, mean, very, very mean girls!" To be completely honest though, yes, it's such a fun character to play. There's so many layers, and I feel like, not necessarily with this character [Heather], but in general, when you play the bad girl there's usually a reason why people are the way they are. No one's just a complete and total bad girl (I don't want to say the B-word). It's fun, because you get to create a backstory and there's a lot of layers, especially for Lauren. But, with Heather in 'Baby Daddy,' she's a straight up snarky, catty chick. It was really fun to play. I definitely like to switch it up. I had a really fun time playing that character. It's all about stepping out of the box and having fun.
TVRage: As a young, talented actress, you're a role model. Do you think young girls can relate to the type of role you usually portray? Or, what do you hope they can learn from your characters?
Scerbo: Yes, it's so funny, because I'm a youth ambassador [for] an anti-bullying organization. I do a lot of charity work … and I always play the bullies, so it's kind of ironic. I always tell everybody that getting to play the bully -- it's shown me life behind their eyes and where they're coming from, and if it can help anybody at all ... Especially when I was playing Lauren, nobody's just a bully for no reason, usually they have problems and situations going on in their own life.
You can catch Scerbo's guest 'Baby Daddy' appearances on Wednesday, Feb. 26 and Wednesday, March 5 at 8:30/7:30c on ABC Family.