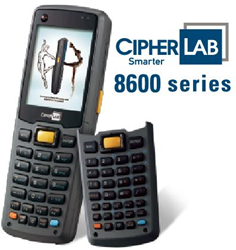 At CipherLab, we frequently help companies upgrade their legacy AIDC system to either dedicated or mobile device based systems, giving us a broad and unique perspective on the inherent tradeoffs involved.
Las Vegas, NV (PRWEB) February 25, 2014
CipherLab, an established innovator in Automatic Identification and Data Capture (AIDC), will be attending 2014 AWMA Marketplace & Solutions Expo, February 25-27 in Las Vegas to demonstrate their Intelligent Order Entry solution with the latest mobile computers and barcode scanners.
Stop by the booth #1042 to find out how CipherLab's new 8600 Series Dedicated Operating System Handheld Terminal can help you with an Intelligent Order Entry solution and/or a Telxon replacement solution. All of which can help your company control cost and boost productivity.
CipherLab's economical 8600 Mobile Computer series deliver anywhere mobility in a ruggedized, ergonomic design, offering speedy barcode scanning via multiple wireless communication options. Its easy-to-use interface minimizes training requirements and supports a variety of software solutions including an "Intelligent Order Entry" solution which can replace most grocery wholesalers' old Telxon, MSI and Symbol terminals. With this solutions many wholesalers can add enhancing features like 'discontinued item alerts' as well as a 'substitute item alert if available' and two way communication, which will allow a master item file to be downloaded directly to the handheld. Feel free to inquire CipherLab products and solutions at the 2014 AWMA Marketplace & Solutions Expo Show in Las Vegas.
For more details and specifications regarding CipherLab Mobile Computers and Barcode Scanners or request for demo, please send an email to NASales(at)cipherlab(dot)com or contact our office at 888-300-9779 by phone.
About CipherLab
CipherLab is a global leader in the design, manufacture, and marketing of Automatic Identification and Data Capture/Collection products and systems. The company's mobile computers and scanners are integrated into the networks of some of the world's best known logistics, retail, distribution, government installations and healthcare companies, helping them run more efficiently and effectively onsite and on the road. CipherLab USA is headquartered in Plano, TX. For more information, please visit http://www.cipherlab.com or like us at http://www.facebook.com/CipherlabUsa.