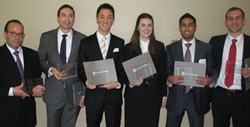 New York, NY (PRWEB) February 24, 2014
Fordham University was selected as the winner of the New York Local Final of the CFA Institute Research Challenge®, hosted by the New York Society of Security Analysts in New York City on February 20, 2014.
Charmian Cooper, Neil Dhruve, Matthew Henriksson, Frank Kong, and Prapunsak (Ta) Wongpaitoon led Fordham to the title. They competed against New Jersey Institute of Technology, Rutgers University, and Seton Hall University. Fordham University also won the New York Final last year.
"The entire process has been a tremendous value-add to our Fordham experience, and we have to give Mike [Kiernan, mentor] and Bob [Fuest, advisor] a lot of credit for building this environment and team. We also want to thank the Fordham party that came out to support us. They made the event feel like we had home court advantage," the Fordham team stated.
Each team presented their research and buy/sell/hold recommendation on Colgate-Palmolive. Colgate-Palmolive is a leading global consumer products company, tightly focused on Oral Care, Personal Care, Home Care, and Pet Nutrition. Colgate-Palmolive sells its products in over 200 countries and territories around the world under such internationally recognized brand names as Colgate, Palmolive, Mennen, Softsoap, Irish Spring, Protex, Sorriso, Kolynos, Elmex, Tom's of Maine, Sanex, Ajax, Axion, Soupline, and Suavitel, as well as Hill's Science Diet and Hill's Prescription Diet.
Robert J. Fuest, the team's faculty advisor said, "I am so honored to work with such a talented group of people, they worked their tails off with hundreds of hours of research and preparation, and their hard work paid off. They truly deserve this and Fordham couldn't be prouder of them—they get 48 hours of off time before I send them back to work."
The Fordham team will advance to the Americas Regional to face teams other North American teams from March 18–19, 2014 in Denver, CO.
The CFA Institute Research Challenge is sponsored by CFA Institute. S&P Capital IQ is the New York Local Final sponsor.
The Challenge is a global competition which tests the analytic, valuation, report writing, and presentation skills of university students. For more information on the New York Local Competition, please visit http://www.nyssa.org/research-challenge.
About NYSSA
The New York Society of Security Analysts (NYSSA) is a leading forum for the investment community. NYSSA's mission is to serve the needs of all members and investment professionals and to educate the investing public. With more than 8,000 members, NYSSA is the largest of the 135 societies worldwide that make up CFA Institute, which has over 105,000 members.