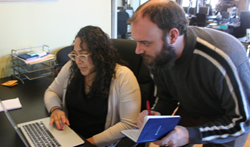 As the digital frontier evolves, more companies look for the bleeding edge of Drupal development to build sites that accommodate for commerce, social interaction, customer engagement, reporting and automation.
Chicago, IL (PRWEB) February 25, 2014
Promet Source has welcomed double-digit annual revenue growth since 2009. This growth can be attributed to an increase in sales for both web application development and 24/7 support and maintenance projects. The success has required Promet Source to seek out top-performing resources. Hiring pushes began in quarter three of 2013 and will continue through at least the second quarter of 2014. Thus far, Promet has hired 13 new employees since August, 2013.
"Promet Source is able to execute projects that are much more complex than our competitors," said Maggie Graham, Marketing Manager. "When companies are seeking to build a site that is not just a brochure, but is a social community, business hub, commerce portal, or a combination of the above, they need a company who can deliver complex integrations, migrations and custom development. It's this unique high-level technical expertise that is bringing more organizations to our door. It certainly helps that we are receiving press regarding some of our work including a recent project with Green Cab of Madison and our Augmented Reality capability."
With new clients in the Association, Media & Publishing, and Healthcare Industries, Promet Source has hired new talent to augment the team to handle the workload. In the first quarter of 2014, Promet recruited three new team members: Kabenla Armah, Melissa Gonzalez and Marc Delay. They will serve as Support Developer, Support Manager and Solutions Architect, respectively.
Kabenla Armah will serve as a Support Developer conducting site assessments, maintenance, code updates and other Drupal support tasks. He brings over a decade of development experience since graduating from Grinnell College with a degree in Computer Science. In his prior position, he was the Senior Software Engineer/In-house Support and Networking Manager at Wilhelm Imaging Research. Armah is respected in the tech industry for developing the application, GravitySim (available on iTunes) - a simulation of Newtonian gravity.
Melissa Gonzalez is an impressive project manager with an MBA and experience working for Clese, VisaNow and Latinos Progesando, among others. In her extensive work history, she expanded and grew web-based global immigration services by 60% as the Manager of Global Services for a leading web-based legal services company. "As the Support Manager, I am looking forward to being a partner to our support clients, providing guidance in maintaining and building sustainable and efficient sites for their core business needs. I enjoy working directly with clients and building long standing relationships," said Gonzalez.
Promet's newest Solutions Architect, Marc Delay has been working in Drupal development for over six years. Prior to Promet, he worked on projects for General Mills, Northwestern Memorial Hospital, Lowe's, The Episcopal Church and other renowned companies. His specialties include complex data migrations, Drupal strategy & consulting, and custom module development. "I am excited to bring Promet's clients to the future of Drupal through modern automation and deployment," said Marc Delay.
As the digital frontier evolves, more companies look for the bleeding edge of Drupal development to build sites that accommodate for commerce, social interaction, customer engagement, reporting and automation. While Promet continues to lead innovation in web development, a key piece of Promet's recent growth is within their support department. Nearly 90% of Promet's development clients become support clients; almost every website launch is the beginning of a new support program. Further, with the introduction of Drupal 8 in 2014, Promet Source forecasts an increase in demand for content migration, site rebuilds and Drupal consulting. By mid-year, Promet plans to hire additional resources in project management, development and support.
"Our most valuable asset at Promet Source is our people. We are committed to providing solutions rooted in excellence delivered with strong customer service. To uphold our brand, we need to continually recruit and nurture the best team in the industry. The backbone of Promet Source is the expertise and experience our team brings to each client," said Andrew Kucharski, President of Promet Source.
About Promet Source: Founded in 2003, Promet Source is a leading interactive development firm that implements open source tools (specifically Drupal) to deliver high-value web and mobile application development & support. Promet offers a turn-key solution delivered by experts in the field: sprint 0 planning (Agile concept development), design, architecture, development and deployment. After deployment, Promet provides ongoing support & maintenance. Our consultants have deep technical expertise and are recognized as leaders within the Drupal community. Promet serves clients globally across multiple industries-specializing in government, higher education, non-profits, start-ups, healthcare and professional services.