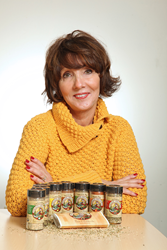 "Engage Organics Salt-free Seasonings are proud to be included among the high quality products offered at the family-owned Lunardi Markets in the San Francisco Bay Area," says Pat Gage
Santa Rosa, CA (PRWEB) February 26, 2014
"Engage Organics Salt-free Seasonings are proud to be included among the high quality products offered at the family-owned Lunardi's Markets in the San Francisco Bay Area," says Pat Gage.
Gage, believes like Lunardi's patriarch, Alfredo Lunardi, that focusing on high quality and personal service are cornerstones of building a strong family business.
Gage, along with husband, Jon, are pioneers in the salt-free market, when their former company, Parsley Patch Salt-free Spices garnered 33% market share in the natural salt-free category in the 1980's.
The Gages have reinvented their secret family recipes in an organic, salt-free, gluten-free, Non-GMO, and local rendition they call Engage Organics Salt-free Seasoning Blends..
The Gages are committed to passing along entrepreneurial skills, they used to build their former Parsley Patch Salt-free Spice Blends company, to the next generation, which includes son, Jason Sherwood (41), and nephew, Jeremy Fitzpatrick (36) who are actively engaged in the family business.
Engage Organics Salt-free Seasoning Blends come in 9 varieties. Look for the Original All-Purpose with and without sesame seeds. Of course, the famous GarlicSaltless Blend makes the best garlic bread on the planet; while Tuscany-Mix puts zip into anything pasta. The Mexi-Mix is a sure bet for replacing those high sodium taco seasoning packets with real flavor instead of salt. And if you want a Starbuck's treat in your cup of java at home, try Sweet-Cinn and gain the cholesterol lowering benefits of cinnamon in a stir. Engage Organics Lemon Pepper is completely void of sugar and salt, which are the main ingredients in most Lemon Peppers. Engage Organics Lemon Pepper has pucker power and is flying off the shelves. Don't miss It's-A-Dilly, a cult favorite for salmon and beyond. And lastly, the new Go-Grill-A-Rub turns barbecue into bliss.
If you would like more information about Engage Organics Salt-free Seasoning Blends, go to http://www.engageorganics.com.