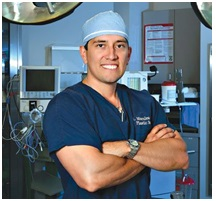 Houston, TX (PRWEB) March 03, 2014
According to a report issued by the American Society of Plastics Surgeons, non-invasive cosmetic procedures are on the rise among men. The top procedures are 'Brotox,' injections for men, and injectables. These procedures rose 6 percent in 2012. The trend has even been noticed by the mainstream media in an article from the London Daily Mail.
The article, published Nov. 29, 2013, states, "In 2012 The Private Clinic on Harley Street treated three times as many men with Botox as it did in 2011 with patient numbers set to have risen further by the end of 2013. Men now account for almost 20 percent of Botox patients at The Private Clinic's UK-wide practices."
Dr. Rolando Morales, Houston's upcoming plastic surgeon, has noticed a similar increase in male patients. His practice has recently seen more men coming in to have Botox on foreheads, injectables under the skin and other minimally-invasive procedures. Where men used to make appointments in the evenings and early hours, they now come in on lunch and on weekends, demonstrating the recent acceptability of these procedures for men.
"The days of the rugged, weathered face is out in the most parts of society," said Dr. Morales. "Men want to retain their youth and look their best. And it's not just celebrities. In a culture where youth is rewarded, it becomes increasingly important to retain one's youthful looks."
For more information about Dr. Morales and his practice, or learn more about surgical options for men, visit his website at http://www.drmoralesplasticsurgery.com
To read the rest of the report from the American Society of Plastic Surgeons, visit http://www.plasticsurgery.org/Documents/news-resources/statistics/2012-Plastic-Surgery-Statistics/full-plastic-surgery-statistics-report.pdf.
About the practice:
Dr. Rolando Morales is a plastic and reconstructive surgeon for the Aesthetic Center for Plastic Surgery (ACPS). Dr. Morales joined the prestigious practice in 2012. ACPS was founded in 1996, and is currently ranked as the largest private plastic surgery center in Texas. As an experienced plastic surgeon known for his personable nature, Dr. Morales consistently produces excellent results and provides the level of safety, care and attention his patients expect and deserve. Dr. Morales specializes in treatments for the eyelids and face, breast augmentation, breast lift or reduction, body enhancement procedures and plastic surgery for men. Face treatments include brow lifts, facelifts and blepharoplasty. Body treatments include tummy tucks, liposuction, body lifts and arm lifts.