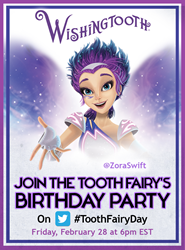 The Tooth Fairy's celebrating her birthday on Twitter this Friday -- and you're invited! #ToothFairyDay
Msida, Malta (PRWEB) February 25, 2014
On National Tooth Fairy Day, the Tooth Fairy herself—Zora Swift—will host her birthday party live on Twitter, tweeting directly to fans and celebrating in style.
Parents with their kids, and anyone remotely curious, can join the fun by following @ZoraSwift or #ToothFairyDay this Friday, February 28, starting at 6pm Eastern Standard Time.
During the one-hour event, followers can tweet @ZoraSwift their birthday wishes and questions. Plus, participants will receive digital Wishingtooth® gifts and other exclusive content.
Introduced by TRC this year, the Wishingtooth legend inspires children to wish upon each lost baby tooth. With an emphasis on the power of self-belief during the tooth loss rite of passage, Wishingtooth brings a greater meaning to Tooth Fairy Day as the day the Tooth Fairy was born.
This is a unique opportunity for parents and kids to share the fun and magic of chatting with the Tooth Fairy.
Here's how you can join Zora Swift's birthday party on Twitter:

Follow @ZoraSwift
Tweet out your questions and birthday wishes to @ZoraSwift using the #ToothFairyDay hashtag
Watch your Twitter feed this Friday, February 28, starting at 6pm EST
Visit Wishingtooth.com ahead of time to explore the legend of Wishingtooth and more.
About TRC Family Entertainment
TRC Family Entertainment is building a new global brand experience that brings families together. Rooted in great stories, the online entertainment and trans-media studio is creating new ways for families to connect, play and share across multiple forms of media. Founded in June 2011 on the Mediterranean island of Malta, TRC Family Entertainment brings together an award-winning team from some of the world's most successful entertainment and technology companies, including Sony Computer Entertainment Europe, Jetix Europe, KingsIsle Entertainment, CCP Games, Disney, DC Comics/Warner Brothers, Adobe, Cisco and Lionhead Studios.
For more information, please visit: trcmediagroup.com and Wishingtooth.com.