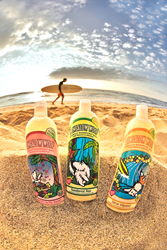 We PH balanced the washes so not only dogs can use them, people can also enjoy them too.
Pearl City, HI (PRWEB) February 25, 2014
Bubble Shack Hawaii is pleased to offer the newly created Bungalow Woof Organic Dog Wash as the latest addition to their vast suite of premium organic bath and body products and natural handmade soy candles. With a commitment to natural and vegan products, this organic dog wash was a natural addition to their product line.
The Bungalow Woof Hawaiian Dog Wash comes in a 16 ounce bottle and is made from organic extracts, free of sulfates, detergents, parabens, phthalates, and artificial colorants. The natural ingredients include coconut and Hawaiian kukui oil to heal hot spots and maintain a shiny coat. The formula has been shown to be effective in eliminating fleas and ticks and relieving dry skin. With use, you can expect reduced shedding and a long-lasting fresh scent. It is great for dogs, but owners will appreciate it too.
"We PH balanced the washes so not only dogs can use them, people can also enjoy them too. In fact, I wash my long hair nearly every day with Citrus Wipeout. The Hawaiian oils like kukui nut make my hair super silky," states Holly Harding, co-owner of Bubble Shack Hawaii.
In 2007, a skinny dog came to rest underneath a mango tree near the Bubble Shack factory. Recognizing the gravity of the dog's health, the dedicated and kind staff at Bubble Shack Hawaii contacted a local rescue group to get the dog some food and medical attention. After a few days at the shelter, there was no owner to claim the pup, so the staff decided to make him their own and name him "Mango."
This encounter inspired the staff to create the organic pet wash, but they wanted to do more by helping other abused and abandoned dogs, so a donation is made to no-kill shelters each time a Woof product is purchased.
Get a highly effective natural dog wash and support the welfare of abused or abandoned dogs by making a Bungalow Woof Organic Dog Wash purchase today, now available at BubbleShackHawaii.com.
About Bubble Shack Hawaii:
Bubble Shack Hawaii is based in a bungalow on Oahu, Hawaii that focuses on natural bath and body products and soy candles. Since 2005, Bubble Shack has been fulfilling the need for revitalizing products that are environmentally friendly.