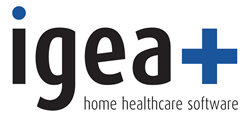 San Rafael, CA (PRWEB) February 26, 2014
Igea Software, a leader in home healthcare software, announced today the launch and rollout of its new corporate identity and redesigned website, http://www.igeasoftware.com. The company is adopting the name from the flagship product Igea HHC, an enterprise-grade, multiagency management platform. The rebranding of Indura Systems as Igea Software comes in the wake of a very successful 2013, during which the company launched several innovative updates and won new business from numerous multi-region agencies.
"Igea Software is a strong, quickly-evolving company. We chose a brand that remains recognizable to our current customers, while allowing us to better communicate who we are today," states Mr. Pablo Buki, CEO of Igea Software. "The new look of Igea Software positions us as a key player in the home health care software space and a leader in the future of Electronic Medical Records."
A decade after its incorporation, the company is entering a new era, launching a fresh and innovative corporate profile through its new identity. The new website has been designed to provide the ultimate user-friendly experience with improved navigation and functionality throughout, allowing customers to access detailed product information and customer videos with the option to share information across all major social networking sites.
About Igea Software
Igea Software is a recognized leader in innovation of home health care agency management software for Certified Medicare, Private Duty and Multiple Location agencies. For over a decade, customers across the US have trusted the Igea to help them provide quality care while growing their business. Information regarding Igea Software is available at: http://www.igeasoftware.com.