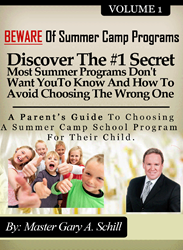 What Your Kids Eat will Dictate their Summer Growth
Cedar Park, Texas (PRWEB) February 25, 2014
Master Schill of Peak Performance shares with parents the importance of proper nutrition during the summer vacation. The summer months are when children typically experience the greatest growth. The only challenge is that when we were kids, we were much more active. We played outside most of the day and after dinner, we played in the neighborhood with our friends. Playing the old games, hide and seek, basketball by street light.
Many children today, due to inactivity gain the greatest amount of weight during the summer months. This weight gain also affects their self-image and self-esteem.
When you enroll your child in a summer camp, most require you to pack a lunch. Make sure you pack a lunch that will help sustain them for physical activity during the entire day. (I guess you should make sure they participate in physical activities, this is a must.)
Do not pack a bunch of garbage, it does not allow your child to maintain peak level of fitness. In addition, the mood swings can be very disruptive to their day as their sugar levels rise and fall. Maintaining proper levels of nutrition will keep their energy levels constant throughout the day. They will not experience that afternoon lull.
Summer can also be the worst time for gaining weight if your child attends a camp or day care where they allow them to sit on the back side all day long playing video games or
watching television.
Stay away from foods and drinks that are high in sugar content. This causes dehydration and with summer temps reaching well into the 100's, we need to keep them hydrated and properly fed.
Require they drink a lot of water.
There have been some recent studies that show that even the sport drinks are having negative effects on our children's teeth. Like anything else, use moderation.
At Peak Performance, we provide parents with an outline on what to pack in their child's lunch. It is not about telling them what to do, it is about giving the parents another voice when the children push back about not having a lunch box full of sugar. In addition to the lunch, many summer camp programs provide an afternoon snack, so please ask your camp provider what they are providing to your child.
Master Schill wrote a summer camp guide for parents outlining the top ten secrets most summer camp programs do not want you to know. The name of the book, "Warning, Discover the Number 1 Thing Most Summer Camp Programs do not want you to know."
Master Gary A. Schill is a leading authority on Child and Family development. For more than 39 years he has studied the Martial Arts. As the owner and chief instructor of Peak Performance Martial Arts, Master Schill runs one of the most successful Summer Camp and After School Programs in the country.
In addition, Master Schill is a 3 time best-selling author, his latest book "The Success Secret" was co-authored with Jack Canfield (Chicken Soup for the Soul co-author). Master Schill's has been featured on all of the major networks, ABC, NBC, CBS and FOX, as well as The USA Today.
For more information on this book and other summer camp tips, visit http://www.SummerCamp14.com or call 512-918-8921.