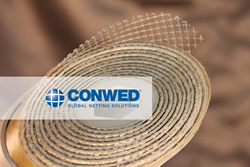 Minneapolis, MN (PRWEB) February 24, 2014
Conwed, the leading plastic netting manufacturer in the world, will exhibit at the 2014 Membrane & Technology Conference and Exhibition, organized by the American Water Works Association (AWWA) and the American Membrane Technology Association (AMTA) in Las Vegas, Nevada (March 10-14, 2014). This event will showcase how membrane technology can enhance water reliability and water quality while revealing new directions in water treatment technologies and wastewater membrane bioreactor applications.
Reverse osmosis is a critical part of the world's water supply. The International Water Management Institute, a non-profit scientific research organization that focuses on sustainable water use in developing countries, estimates that by 2025 nearly 1 billion people will lack access to fresh, drinkable water. It's clear that Reverse Osmosis (RO) will play a major role in alleviating water scarcity, but there will be a strong push for greater efficiency and cutting energy costs while boosting product water output.
Conwed believes that the next leaps in RO filtration efficiency could come from the feed spacer. The Global Innovation and Technology team at Conwed, led by James Kidwell, is devising and testing new ideas and developments in feed spacers. "For more than 45 years, Conwed has been developing netting solutions for hundreds of products and applications in diverse industries," says Kidwell, Director of Technology & Innovation at Conwed. "Our aim here is to research the RO challenges prevalent in our industry and test new feed spacer ideas that might help address those challenges."
Conwed manufactures a complete portfolio for filtration applications including extruded square, diamond and oriented netting, extruded cylinder tubes and RO feed spacers. "Our team specializes in working closely with customers and helping them solve their individual challenges with customized netting designs," said Ivan Soltero, Strategic Marketing Manager at Conwed. "We'd like the RO industry to know that Conwed is committed to furthering RO feed spacer research and explore the impact it may have on improving RO filtration performance."
About CONWED
Conwed is the leading plastic netting manufacturer in the world. Conwed manufactures extruded, oriented and knitted netting with unique customization capabilities. Headquartered in Minneapolis, Minnesota, Conwed has five manufacturing locations on two continents and a global distribution network.