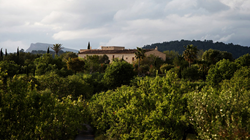 Mallorca is good for the soul. No wonder everyone's smiling.
Totnes, Devon (PRWEB UK) 4 March 2014
Hunter Traveller is pleased to present a visual showcase of Mallorca at Mallorca.huntertraveller.com. The new website was crafted by a team of designers, film makers, website professionals and hotel consultants. The new site features a carefully considered selection of hotels, restaurants and travel destinations curated for their ethos, warmth and human touch. Featuring a highly visual and informative style, the site displays the raw beauty and genuine personality of the people, places and chefs of Mallorca.
According to the travel experts at Hunter Traveller, every place has a soul and a true identity. Unique places make a destination beautiful, as do the people and cultures behind them. So the intention was not to create an elite collection or a list of five star properties, but to share an informed and well-rounded overview of all the rich contrasts that the island has to offer.
Hunter Traveller strays from the beaten track and is deliberately aimed at the discerning, the curious and the adventurous. Marks of quality are more than just luxury, location, price and aesthetics. The treats, the indulgences, the luxuries as well as the more simple things, are all loved in equal measure.
"To settle on just one or two experiences in Mallorca would be to miss out," says Laura Tennant. "We have savoured our morning coffee in the local village cafes; never posh, nor prestigious, but really good coffee served with heart, and for less than a euro. This feeling is part of our day and reminds us of the warmth and hospitality that make the Balearics so special."
Some days are made for pampering and the island does this exceptionally well. From world-renowned hotel/ spas to fine dining gourmet restaurants and the cosmopolitan avenues of the capital - everything is taken care of. But also there are days travelers feel more like getting lost in the countryside, driving through vineyards, exploring the mountains feeling like a free spirit, disconnected from the every day.
According to Hunter Traveller, "Mallorca is good for the soul. No wonder everyone's smiling."
Mallorca.huntertraveller.com is not the average travel site. From featured hotels to island stories, the new website provides a unique look at Mallorca. Visually stunning photographs will provides the best experiences of the island right at your fingertips.
For more information about Hunter Traveller or destinations like Mallorca visit Mallorca.huntertraveller.com