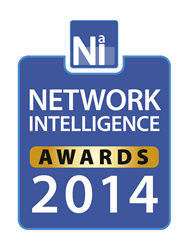 The excellence of the competing projects confirms the fundamental role of Network Intelligence
Paris, France (PRWEB) February 26, 2014
The Network Intelligence Alliance (NI Alliance), an industry organization created for collaboration among the Network Economy's technology providers, today announced the winners of its 2014 Network Intelligence (NI) Awards. These industry awards set out to recognize and honor telecom operators and suppliers that have successfully used network intelligence technology to develop and deploy innovative services and products.
Selected by a jury comprised of Clifford Grossner, Ph.D., Directing Analyst, Data Center and Cloud at Infonetics Research, Tom Nolle, President of CIMI Corp and Chief Architect for CloudNFV, and Erik Larsson, Chairman of the NI Alliance and VP Marketing at Qosmos, the Network Intelligence Awards winners are:
1. Best Operator Service based on Network Intelligence: Telefónica, for its Deeper Analytics solution
2. Best Vendor Product or Solution based on Network Intelligence: Wind River, for its Intelligent Network Platform
3. Best Innovation based on Network Intelligence for SDN/NFV: Netronome, for its SDN Middlebox
The winners were announced during the 4th consecutive annual event organized by the Network Intelligence Alliance in Barcelona during Mobile World Congress.
"I was impressed with the quality and the quantity of applications," said Erik Larsson, Chairman of the NI Alliance. "The excellence of the competing projects confirms the fundamental role of Network Intelligence, both in today's networks and in tomorrow's architectures based on SDN and NFV."
About the NI Alliance
The NI Alliance is an industry organization promoting collaboration among vendors of products or solutions based on network intelligence. Members are suppliers of network intelligence technology components; software vendors; and information providers of solutions, such as cybersecurity, telecom service assurance, traffic optimization and more. Participation in the NI Alliance helps members build and market innovative solutions to network operators and enterprise customers seeking to improve performance, security and monetization of network-dependent services. For more information, please visit http://www.nialliance.org or follow us on LinkedIn, Twitter or Facebook.