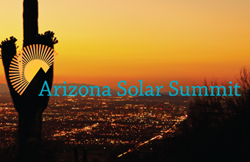 Arizona has excellent physical and intellectual assets to advance the new plan and make Arizona an energy leader.
Scottsdale, Ariz. (PRWEB) February 24, 2014
Policy leaders, industry partners and energy experts gathered at ASU SkySong Feb. 20 to discuss the future of solar energy in Arizona at Arizona Solar Summit IV. The event featured the first public unveiling of the state's new master energy plan, "emPOWER Arizona: Executive Energy Assessment and Pathways." Gov. Jan Brewer signed the executive order on Feb. 18, making it the state's first comprehensive energy plan in more than 20 years.
The Arizona Solar Summit, hosted by Arizona State University LightWorks, ASU SkySong and the Sandra Day O'Connor College of Law and sponsored by NRG, provided the first opportunity for the public to learn about the master energy plan. Leisa Brug, Brewer's energy policy advisor and director of the Governor's Office of Energy Policy, led a panel discussion on the plan and its goals. Brug said that Arizona is already ahead of other states in terms of energy policy, and the new master plan will help the state continue to be a national leader in the field.
"We'll be a national model," Brug said. "We see this as a tremendous way to buoy up our solar industry."
The plan seeks to make Arizona a "collaboratory" of policy leaders, energy experts and universities.
"We have tremendous opportunity in this state," said Gary Dirks, director of the ASU Global Institute of Sustainability and ASU Lightworks. "Arizona has excellent physical and intellectual assets to advance the new plan and make Arizona an energy leader."
Arizona's new energy plan wasn't the only issue covered at the event. Brug's was among several panels that touched on topics critical to the state's solar industry, including the future of the utility sector, carbon dioxide mitigation, energy efficiency in the built environment and more.
Keynote speaker William Harris, president and CEO of Science Foundation Arizona, encouraged the audience to get engaged with the issue of climate change. He illustrated the way carbon dioxide emissions have rapidly increased since the Industrial Revolution and expressed a need to optimize our current system, starting with K-12 education.
"People use this word 'sustainability' so often I don't even know what it means," Harris said. "I like how Charlie Bayless described it: 'Treat the planet like you intend to stay.' Get involved, stay involved and work with this issue."
The Arizona Solar Summit seeks to create meaningful change in the solar industry by bringing together solar experts in a variety of fields and creating networks of active participants in new solar technology, energy policy and forward-thinking innovations to reshape and revitalize Arizona's energy markets. This year's summit is part of the inaugural Walton Sustainability Solutions Festival, an ASU initiative that encourages and celebrates innovators, entrepreneurs and creative thinkers who seek to find solutions to sustainability challenges.
With more than 300 days of sunshine per year, access to high-quality public research institutions and a plethora of energy industry experts, Arizona is naturally poised to create a high-impact solar economy and be a global leader in solar energy.
For more information about the Arizona Solar Summit, visit http://azsolarsummit.org.
###