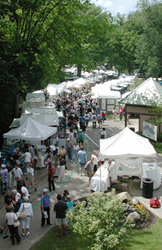 "Kudos to all for superb work. I would much rather do a smaller sized, well-loved event such as this than a gargantuan circus attracting 50,000 browsers." - 2013 Arts Festival exhibitor
Cleveland Heights, Ohio (PRWEB) February 26, 2014
Applications are now being accepted to the 37th annual Cain Park Arts Festival (July 11-13, 2014), a juried fine arts and fine crafts show produced by the City of Cleveland Heights and directed by professional artist George Kozmon. Application deadline is March 3 to submit a completed form, five images of the artist's work, a resume, and a $35 non-refundable processing fee. The application can be mailed to Cain Park Arts Festival, 40 Severance Circle, Cleveland Heights, Ohio 44118 or emailed to artsfestival(at)clvhts(dot)com. Requirements and the application form can be downloaded from the Cain Park website.
One hundred fifty artists will showcase their work, among them approximately 25 artists who are award winners from the previous year. Typically, the Festival is comprised of approximately 55% two-dimensional art, which includes paintings, watercolors, hand-pulled prints and photography. The other 45% includes fine crafts in all categories ranging from sculpture, ceramics, all media of jewelry, wood, leather, glass, fiber and other material. All work exhibited must be original, designed and produced by, or under the direct supervision of, the exhibiting artists although signed and numbered digital or mechanical prints are allowed in one display bin. Previous years' exhibitors can be viewed on Cain Park Arts Festival's Facebook page.
Inadmissable work includes:

buy-sell art, imported art, workshop art or mass-produced items;
traditional craft items including but not confined to: pysanky and hex art, dried flowers, floral arrangements, decoupage, macramé, crocheting, millinery, velvet paintings, music as an art form (musical instruments may be considered as sculptural objects but no concertizing in the booth is allowed);
living plants, tents, hammocks, camping gear, luggage or similar items as an art form;
work produced from dies, casts or molds;
art based on embellishing commercially produced items such as painting, stitchery or appliqués on commercially produced garments;
decoration on commercially produced furniture or reconstructed or embellished structural/architectural components.
Located on Lee and Superior Roads in Cleveland Heights (for online mapping: 14592 Superior Road, Cleveland Heights, Ohio 44118), and minutes away from the world-class arts and cultural institutions of University Circle, Cain Park is a municipally owned and operated summer performing arts park. 2014 marks its 76th anniversary season. Artists applying with questions about the Arts Festival, should call Janet Hoffman at 216-291-3669.
George Kozmon, an internationally collected artist, is best known for his monumental architectural paintings, which have been widely exhibited and critically acclaimed throughout the United States and abroad. He is the recipient of numerous awards including The National Endowment For The Arts Individual Artist Fellowship, and four Ohio Arts Council Grants. His resume reflects over 30 solo exhibitions in commercial, academic and institutional venues, and over 100 two-person, invitational, or group shows. Mr. Kozmon's work is represented in prestigious public and private collections including the Cleveland Museum of Art, (Cleveland, Ohio) Hyatt Regency (Cologne, Germany), IBM (Armonk, New York), The Butler Institute of American Art (Youngstown, Ohio), Astor Residence Hotel (London, England), and The Cleveland Clinic Foundation, (Cleveland, Ohio). Commissioned projects include Halliburton Corporate Headquarters (Dallas, Texas), Key Corp. (Cleveland, Ohio), Turner Construction Co. (Columbus, Ohio), Ungerer GmbH (Pforzheim, Germany). Marriott Corp. (Arlington, Maryland), and the Ritz-Carlton (Buckhead, Georgia). His most recent commission were twelve large-scale canvases for the Ritz-Carlton in Abu Dhabi that were installed in 2013. He completed painting a 16' x 8' mural as an on-site performance for Ingenuity Fest in Cleveland, Ohio in September of 2013. As well as being a full-time artist, Mr. Kozmon has been the Director of the Cain Park Arts Festival (for 10+ years) in Cleveland Hts. Ohio; owned, operated and directed his own gallery (thrive an artspace) for three years; teaches, lectures, curates exhibitions for various institutions; serves on several non-profit boards, and is an active participant in the culture of Greater Cleveland. Other interests and activities include extensive involvement in the Hungarian-American community, traveling, reading, running, biking, camping, hiking, kayaking, climbing, caving, sharing camaraderie and a good beer with close friends, and having adventures with his wife and 2 boys.