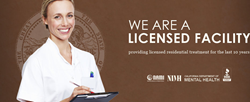 I came to Bridges depressed, angry, and scared. After settling in, I realized that I was in exactly the place I needed to be. The loving staff and doctors at Bridges helped me through a really dark time.
(PRWEB) February 24, 2014
There are multiple types of Depression, but people with Major Depression most often manifest those symptoms with which most people associate Depression. Being depressed often carries a stigma in society as many people incorrectly feel that Depression can simply be shaken off by employing positive thoughts and willpower. Major Depression is a mental illness that requires multiple types of treatment and a decent amount of time for healing. Those afflicted with Major Depression who fail to receive proper treatment will likely suffer personally, professionally, and emotionally; untreated Major Depression may even lead to attempted or successful suicide.
Americans are more clinically depressed than the rest of the world, at least by the numbers; nearly 17% of all Americans will experience some form of Depression in their lifetimes. About 19 million people will have Depression of some type in any given year, but nearly 80% of all people treated for Depression will recover. Major Depression involves more than just feeling down or "having the blues," and seeking help with the symptoms of Depression is essential for a person's well being.
Psychotherapy is often a successful means of treating Major Depression, and Bridges to Recovery boasts a talented group of highly qualified and professionally-licensed therapists. These medical professionals specialize in Psychodynamic Therapy but may also use Cognitive Behavioral Therapy, Dialectical Behavioral Therapy, or another useful type of psychotherapy. The staff of Bridges to Recovery is well versed in evaluating patients and will take that information to form a treatment plan that is unique to the Major Depression Patient.
Many Major Depression patients feel the need to withdraw from their lives, but this isolation often leads to negative consequences. The secluded nature of Bridges to Recovery's three California locations gives Major Depression patients the means to draw back from their lives without putting their lives in danger. The staff-to-patient ratio at all Bridges to Recovery facilities is at least 1:1.6, ensuring that no patient will suffer from lack of attentive care.
By checking in to a Bridges to Recovery facility, Major Depression patients can receive the medical and emotional help they need while living in a home-like, comfortable environment. The facilities do not have an institutional feel, so Major Depression patients will not feel as if they are institutionalized. The medical professionals of Bridges to Recovery understand that Major Depression can be a lifelong struggle and will thus make a recovery plan with each patient before they go back out into the world. Nearly 80% of all people who receive treatment for Major Depression recover, and seeking help from Bridges to Recovery is a positive step that can lead towards patients joining that number.
Contact BTR 24 hours per day, 7 days a week at 1-877-386-3398