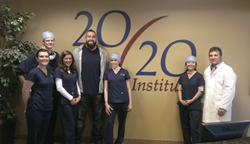 Denver, CO (PRWEB) February 25, 2014
Denver Broncos' All-Pro Guard Louis Vasquez has taken a big step toward preparing for the 2014 NFL season with successful LASIK surgery from Denver's 20/20 Institute.
20/20 Institute, the official LASIK Provider of the Denver Broncos, announced that Vasquez underwent successful LASIK treatment this month at its Englewood office. "As medical professionals and Broncos fans, the team at 20/20 Institute is thrilled for Louis," said 20/20 Institute CEO Dr. Mark Danzo, OD. "Before the procedure, Louis could barely see the top line of the eye chart without his contact lenses. Now he has 20/15 vision in both eyes without glasses or contacts. That is better than 20/20 vision."
Vasquez drove himself to his next-day follow-up appointment and is very pleased with the results. "It's awesome—the very next day I could see better than 20/20," he said. "It's great not to have to deal with contact lenses anymore."
Danzo noted people who live and work in Colorado's high altitude and relatively dry climate must be very mindful of how long they wear their contact lenses. "Given his busy schedule and poor uncorrected vision, Louis slept in his lenses and often wore them much longer than most eye doctors would recommend, which can pose significant contact lens over wear risks. I think a lot of people in the Rocky Mountain region can relate to that."
About 20/20 Institute
The Denver LASIK team at 20/20 Institute is devoted to providing patients with an exceptional vision correction experience in a comfortable setting. The 20/20 Institute focuses on three core principles: Proven Results, Patient-Centered Care, and Specializing in LASIK. As a premier LASIK Eye Surgery provider in Denver, the 20/20 Institute has convenient locations in Englewood and Westminster. For more information about LASIK and the 20/20 Institute, please visit: http://www.2020institute.com.