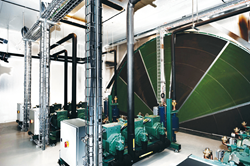 KyotoCooling® is able to achieve annualized power usage effectiveness (PUE) measures of 1.05-1.2
New Orleans, LA (PRWEB) February 25, 2014
Air Enterprises receives the 2013 Product Line Strategy Leadership Award, established and presented by Frost & Sullivan. This award recognizes KyotoCooling® for price competitiveness, energy efficiency, solution reliability, ease of maintenance and market penetration potential. KyotoCooling is the most widely installed, longest running, new generation cooling solution in the market. "We are very pleased to receive this recognition and look forward to installing and supporting this innovative green technology throughout the industry as a leading solution to current global resource challenges," said Martin Ellis, CEO of Air Enterprises.
The KyotoCooling® proprietary technology (US patent 7,753,766 B2) is a waterless, highly-efficient solution specifically designed for cooling data centers by utilizing outside air and energy recovery wheels (KyotoWheel™) to optimize data center ambient temperatures while minimizing outside contaminants. The air-to-air transfer method of this cooling technology is up to 90 percent efficient in heat rejection.
"Using outside air can save 75-85 percent of the cooling costs, compared to traditional systems," as quoted from Frost & Sullivan Analyst Pramod Dibble. "Frost & Sullivan's analysis shows that Air Enterprises' KyotoCooling® is able to achieve annualized power usage effectiveness (PUE) measures of 1.05-1.2, whereas the industry average is above 2.0." KyotoCooling® also yields the lowest possible water usage effectiveness (WUE) as well as carbon usage effectiveness (CUE) compared to all other cooling technologies while benefiting from the lowest total cost of ownership.
With more than 40 installations in nine countries, KyotoCooling® has installations at HP, Bell Canada, United Airlines, Bend BroadBand and Cloudsite. KyotoCooling® is driving the mission of responsible design, addressing the increasing demand on resources by data centers. From the United States to China to Africa, KyotoCooling® is reducing data centers carbon footprint, conserving energy and water.
About Air Enterprises
Air Enterprises designs, sells and manufactures custom air handling solutions to meet any system configuration or space requirement. The Company has special expertise across many industries, including automotive, data centers, healthcare, industrial, pharmaceutical, and educational markets. With 50 years of application experience and a focus on energy savings and sustainability, Air Enterprises partners with the client to deliver the most efficient air handling solution at the lowest total cost.
For more information visit http://www.airenterprises.com.