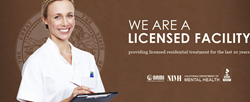 Doctors will try to pinpoint the specific Anxiety Disorder or combination of disorders that need to be treated.
Malibu, CA (PRWEB) February 24, 2014
Most people suffer from some form of stress every day, and many manage to cope with the short-term anxiety caused by these situations quite admirably. Once the situation is under control, the fear generally goes away, and life returns to normal. For millions of people, however, this is not the case. These people develop an Anxiety Disorder with symptoms that continue to be problematic for six months or more, even if the original mental, physical, or emotional stressor has been resolved. Excellent treatments based on extensive research have been developed and are now available to help those suffering from the life-constricting symptoms associated with Anxiety.
Types of Anxiety
Medical professionals have identified at least five major types of anxiety disorders, and some people may be suffering from several of these at the same time although one is usually the predominant problem.
Generalized Anxiety Disorder: Worry is not a medical issue when it is the result of serious troubles, but people with Generalized Anxiety Disorder feel a constant nagging fear that terrible things are about to happen. This dread does not have to be related to any specific situation in their lives, but it may become so severe that it paralyzes them emotionally. Their Anxiety may cause them to withdraw from normal activities and relationships.
Social Anxiety: People with this disorder have an abnormal fear or nervousness about interacting with other people in normal situations. They may worry constantly about everyday social activities, even those they have performed successfully hundreds of times in the past. Something as simple as eating at a table with other people may become an insurmountable task. Just the thought of social interaction may bring on Anxiety for those afflicted with this disorder.
Phobia: A Phobia is extreme but very specific fear that occurs in response to specific triggers. People with Phobias may begin to dread an activity or a situation long before it is scheduled, and many are unable to find the strength to go through with it. The reassurance offered by other people and by the facts of the situation may do little to alleviate their fear and distress. Some of the most common Phobias are the fear of flying, the fear of heights, the fear of enclosed areas, and the fear of water. Other Phobias are even more difficult to understand; some people have a phobia of clowns, amusement parks, or swings. Often, doctors and patients can work together to determine the source of a particular Phobia, but not always.
Panic: The suddenness and severity of the symptoms that occur with this type of Anxiety Disorder make those who have it sometimes feel as if they might die or suffer a heart attack. Panic attacks cannot be predicted, and the symptoms often grow progressively more severe during the first 10 minutes of the attack. Some individuals have only a single Panic Attack, but for others, Panic symptoms may on a recurring basis, leading to the diagnosis of Panic Disorder.
Obsessive Compulsive Disorder (OCD): OCD is an abnormal compulsion to do tasks in a certain way or to repetitively complete the same actions. This ritualistic behavior is called an obsession, and those with OCD lose their ability to control these activities. Because of the frequency with which they are compelled to perform these tasks, people with OCD are often unable to function in their own homes and social circles. Obsessive Compulsive Disorder is usually diagnosed during early childhood or during teenage years when adolescents are already dealing with the stresses that come with puberty.
Anxiety Treatment at Bridges to Recovery
One of the greatest challenges for those dealing with an Anxiety Disorder is to find a treatment center that understands their issues and has a staff that is highly experienced in treating these types of problems. Bridges to Recovery offers interventional therapies for all types of Anxiety Disorder developed around the whole person. The doctors and staff at Bridges to Recovery, a facility licensed by the California Department of Mental Health and the California Department of Social Services, work diligently to provide patients in the residential treatment programs with the tools and training they will need to develop emotionally, physically, and spiritually.
The focus of the Anxiety programs at Bridges to Recovery is to aid our patients in tolerating life stressors by using strategies to identify the sources of their stress and to develop techniques to manage their symptoms. In addition, although Bridges to Recovery does not focus on the treatment of chemical dependencies, the dedicated professionals at our facilities will provide assistance to aid patients in overcoming any painful addictions which may be related to these Anxiety Disorders. Because our medical professionals have served clients since 2003, Bridges to Recovery has a proven track record as an excellent alternative to hospitalization for the people requiring treatment for Anxiety Disorders.