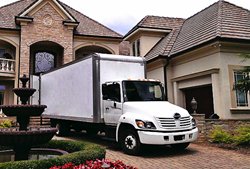 San Jose, California (PRWEB) February 25, 2014
England Van Lines are seeking new technologies that will effectively render all current transportation rigs obsolete by 2020. Although it has very recently updated its current moving trucks with simple advancements such as GPS, the company is planning to more drastic measures in the future.
Company Spokesperson William Alexander believes some of these new technologies are close at hand. "The GPS improvements were meant to give us an edge in an industry used to narrow margins between competitors. And they have. But we're not looking for an edge; we want to be the best, and we want anyone who looks at our company to know that we're the best beyond any shadow of a doubt. In order to make that dream a reality, we have to ensure that we have access to new technologies as they develop."
The advancements that Alexander has in mind are not simple upgrades. They are innovations which, when implemented, will radically transform the relocation industry as we know it. Already one of the leaders in all commercial, office, and long distance relocations, England Van Lines has a fleet known for its efficiency. Drivers are careful on the roads, and thoughtful of a client's inventory. Accidents are handled openly and honestly, although they rarely occur.
Alexander has been more transparent about company goals than others in the past. When asked why, he provided a genuine response. "We believe healthy competition is good for the economy, which is a boon for everyone. More competition means the technology will advance more rapidly because everyone seeks access to it. The faster this technology develops...Well, the faster we'll get to it first. We've done it before, and we'll do it again."
Several technologies are being researched. One aspect of moving trucks that remains constant is that they are heavy. England Van Lines believe that more aerodynamic designs for these vehicles are long past due, as the amount of fuel burned while moving inventory cross country can be costly, both to the environment and to the customer.
It was also thought by company executives that as newer designs are introduced, newer methods of clean, more efficient fuel should be developed. The company is seeking clean, inexpensive alternatives such as electric, hydrogen, or even solar energy. It is likely a combination of the three will eventually surface.
Although further down the road, it has also been hinted that England Van Lines are seeking automated technologies, which are thought to be safer and cheaper. Only time will tell.
England Van Lines maintains a detailed blog relating to industry news which can by visiting England Van Lines online.