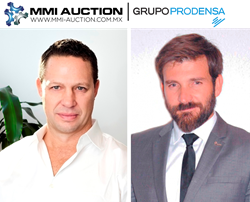 Our goal is to provide in-demand machines to and from Mexico at the best prices on the market, in addition to amplifying our selection of quality machinery for end users throughout North America.
Chicago, IL (PRWEB) February 25, 2014
U.S.-based Machinery Marketing International (MMI), a leading distributor of CNC metalworking and fabricating machinery, has just announced its partnership with Grupo Prodensa, a Mexico-based organization that establishes and develops business relations between Mexico and foreign markets. The strategic partnership provides a significant gateway to conducting business between the two North American markets.
Manufacturers will benefit from the larger selection of machines offered, in addition to full-service logistics and financing services – resolving two service issues that continue to pose distribution challenges when crossing national borders.
"We recognize that Mexico is a burgeoning market for manufacturing and a prime location for many global businesses," said MMI President and Founder Paul Zimmer. "Our goal is to provide in-demand machines to and from Mexico at the best prices on the market, in addition to amplifying our selection of quality machinery for end users throughout North America. We are proud to partner with Grupo Prodensa to provide more choices and an enhanced service for today's manufacturing industry."
The partnership includes the March 2014 launch of http://www.mmi-auction.com.mx, which is dedicated to Mexico's market and machinery procured within that market, and then sold to Mexico and U.S. customers. The Mexico website is a Spanish language division of MMI's U.S. website, http://www.mmi-auction.com, and will host timed online auctions and conventional sales of machines. The first auction to be hosted on http://www.mmi-auction.com.mx is scheduled for May.
Grupo Prodensa President and CEO Emilio Cadena noted the benefits that MMI's online platform brings to Mexico's manufacturing industry: "Having access to technology and modern equipment is key for the Mexican manufacturers in order to reach growth and expand their business to new markets. By consolidating this partnership, Grupo Prodensa achieves diversification and will be able to provide real business opportunities for the Mexican industry. We are proud to join MMI, and we give them the warmest welcome to our organization."
Account manager Héctor Sepúlveda will act as liaison in the MMI-Prodensa partnership. Sepúlveda will manage customer relations, business development and market research to meet the demands of the metalworking industry in the U.S. and Mexico.
Grupo Prodensa is privately owned and controlled by people involved in the day-to-day business in Northeast and Central Mexico. In its 28 years of experience, Prodensa has assisted foreign companies in the process of starting operations in Mexico, and has worked with Fortune 500 companies to mid-size and smaller businesses. Prodensa has effectively been involved in more than 190 manufacturing projects, including industries such as metal mechanics, plastics, automotive, appliances, electronic, medical and aerospace.
Further information on MMI and its partnership with Prodensa may be obtained by calling +1.312.226.4150 or emailing info(at)mmi-auction(dot)com.
About Machinery Marketing International, LLC
Machinery Marketing International, LLC (MMI) is a centralized resource for buying and selling surplus machine tools and precision machinery, connecting end users with flexible, turnkey solutions. MMI's full range of services includes buying and selling used machinery, online auctions, marketing, asset recovery, liquidation, scrapping, logistics and financing. MMI offers more than 250,000 buyers and sellers worldwide the opportunity to browse, bid on and buy or sell machinery through either cash purchase or through its proprietary auction platform on both MMI-Auction.com and MachineToolBids.com. With sales of more than $100 million to date, MMI provides sellers the opportunity to bring their surplus machinery to market quickly and maximize their financial returns through cash purchase or auction placement. For more information about the company, visit http://mmi-direct.com.