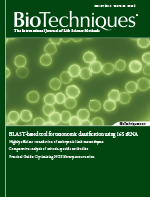 New York, NY (PRWEB) February 25, 2014
The February 2014 issue of BioTechniques (http://www.biotechniques.com) is now available featuring the following articles:

Library construction for next-generation sequencing: Overviews and challenges
TUIT, a BLAST-based tool for taxonomic classification of nucleotide sequences
High efficiency transfection of embryonic limb mesenchyme with plasmid DNA using square wave pulse electroporation and sucrose buffer
Comparative analysis of mitosis specific antibodies for bulk purification of mitotic populations by fluorescence-activated cell sorting
A Tech News article on Decoding protein structure, one femtosecond at a time
Keywords: next-generation sequencing, protein expression, protein purification, cloning, aptamers, aptamer selection, ELISA assays, sandwich assays, polymorphism analysis, ChIP-Seq, chromatin immunoprecipitation, computational biology, sequencing library genertation, next-generation sequencing bioinformatics, FACS, cell sorting, mitosis
Also available, the January 2014 issue of BioTechniques featuring the following articles:
Quantitative analysis of colony morphology in yeast
AG-NGS: A powerful and userfriendly computing application for the semi-automated preparation of next-generation sequencing libraries using open liquid handling platforms
A technique to increase protein yield in a rabbit reticulocyte lysate translation system
Robust and artifact-free mounting of tissue samples for atomic force microscopy
A Tech News feature on Seamlessly rewriting the lab cloning manual
A Troubleshooting Forum feature on Laser capture microdissection
BioTechniques is available in print, digital web, and mobile app formats for Apple and Android devices. Subscribe online to receive print editions by mail or monthly email alerts for digital and mobile app editions. Digital and mobile app issues are available at least one week prior to print issues.
To view digital web editions or download mobile app platforms for Apple or Android devices from the Apple App Store, Google Play or Amazon Appstore, visit: http://www.BioTechniques.com/Digital.
To request a subscription or update your subscription to include digital and mobile alerts, visit: http://www.biotechniques.com/Subscribe.
About BioTechniques
BioTechniques, the international journal of life science methods, provides open access to first-quality, peer-reviewed papers on laboratory techniques and protocols. Now in its 55th volume, BioTechniques has over 80,000 print subscribers worldwide. The journal augments its peer-reviewed content with feature articles and topic-specific supplements. Visit http://www.biotechniques.com for more details or to subscribe.