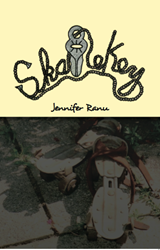 These stories have a tendency of making the reader smile and laugh.
Wayne, NJ (PRWEB) February 26, 2014
Jennifer Ranu shares 22 unique childhood roller-skating stories told by men and women that span from The Great Depression through the 1970s in her new book, "StateKey."
Ranu's inspiration behind writing this book was primarily for preserving family stories for future generations. Her mother's Alzheimer symptoms encouraged her to record her mother's stories. It was important to Ranu that she wrote down the details of her mother's life during the Great Depression Era to save for her own grandchildren.
This collection of stories grew rapidly when she shared her intention with her friends, who began to share their childhood roller-skating stories with Ranu.
Each of the 22 stories shares a common childhood activity, roller-skating on metal skates that needed a skate key. This metal gadget was a tool used to adjust the roller skate for a perfect fit onto the skater's shoe. Each of these roller-skating stories takes place outdoors during the eras of The Great Depression, World War II, the 1950s, the Civil Rights Movement, and through the 1970s.
Readers can experience a pleasant walk through memory lane complete with authentic photos of the time and places represented in the stories.
"The stories have happy endings," said Ranu. "They have a tendency of making the reader smile and laugh."
Each story serves as a historical resource presenting a picture of how childhood was spent at a time different from today in American history.
"SkateKey"
By: Jennifer Ranu
ISBN: 978-1-4568-7628-9
Available at Amazon, Barnes and Noble Booksellers and Xilibris online bookstores
About the author
Jennifer Ranu was born in the baby-boomer generation. She has been an educator for over 30 years educating both school children and future teachers. Ranu has served as professor in the Department of Curriculum and Teaching at Montclair State University in New Jersey. "SkateKey" is her first published book.
# # #
**FOR IMMEDIATE RELEASE**
EDITORS: For review copies or interview requests, contact:
Jonathan McAfee
317-602-7137 | jmcafee(at)bohlsengroup(dot)com
(When requesting review copies, please provide mailing address.)