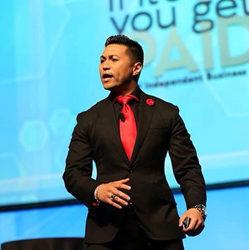 To get something you've never had, you'll need to do something you've never done!
Miami, FL (PRWEB) February 25, 2014
Max Knowles is all geared up and excited about ACN, Inc.'s expansion to Latin America and is all set to get "RIDICULOUS." Several of Max Knowles' team members are from South America and of Latin descent. This gives Max and his team an added advantage.
Soon after ACN, Inc. announced its plans to make an appearance in the Latin American market, Max Knowles, a Senior Vice President of ACN, Inc., got into his famous "beast mode," busy collecting data about the market and mobilizing his current team members. With a good number of Max and Teanna's current team members coming from the Latin American background, they have a distinct edge as they already have an insight into the demographics, preferences, likes and dislikes, and most importantly a sound understanding of what "clicks" in this market.
Max believes that every market and every region is different and has special needs and demands. The Latin American market is an altogether different market than the US and the other countries where ACN is currently active. Therefore, penetrating this market is a challenge he and his team members have to face and excel at. Max says that such challenges bring an adrenaline rush, keeps him on his toes, and pushes him to give it his best shot. He believes that to get something you've never had, you'll need to do something you've never done! He firmly believes that with the kind of support and cooperation he has been receiving from the company for all these years, he and his team will be able to meet his company's expectations. The company is already in the process of developing all the infrastructure that the IBOs would need to kick start business in this region.
Max says that life ahead will be very, very exciting for him and the ACN team. Latin America is a huge and fast-growing market, where the potential largely remains untapped. With an entry into over 20 countries and a massive consumer base of over 700 million people, there is tremendous growth opportunity for one and all at ACN, Inc.
While several of Max's current team members are from Latin America or have ties in the region, Max is also planning to add more members to his team. Max says success gets multiplied when you join hands and everyone in the process shares, contributes and grows. This has been the essence of ACN, Inc. ever since its inception, and Max and his team are ready to take this legacy ahead. Max is using his current event locations to promote the company's entry into Mexico.
Max says that ACN, Inc. is known for its vision, business ethics, and high integrity. To be a part of Max's team would mean a lot of dedication, determination and hard work. One has to go beyond and be prepared for the leg work. Not all the efforts one puts in pay off, but if one is dedicated and prepared to do what it takes to make direct selling a success, there's no looking back. Max is the living example of success; he rose from a freshman to become a Senior Vice President at ACN, Inc. without any prior experience in business. It took him just about 7 years to reach where he is today, and he continues to grow with the company.
So, individuals who have the fire in them and the burning passion to succeed, people who are committed and are team players with high integrity are welcome. With this, the individuals will not only be able to reach out to the customers in Mexico, but also the international players. Max reiterates that success is not guaranteed, nor is it easy. However, if the individuals put in 100% effort, there's no reason why they won't be successful.
Keeping in line with ACN, Inc.'s legacy, Max is ready to extend his whole-hearted support to his team mates, including tips on how to market effectively and staying connected with prospects, holding meetings and following up with them.
Mexico is just the first step, and this is one of the best opportunities to enter on the ground floor and be a part of a great business opportunity.
To learn more about Max Knowles and how you can become a part of Max's team, click visit http://maxknowles.com today.
Contact
Max Knowles, Florida, USA
http://www.MaxKnowles.com