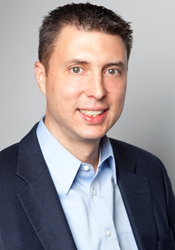 PrimeRevenue's multibank supplier finance programs are experiencing tremendous growth and I am excited about the opportunity to lead the Company's European team to the next phase of growth ~ Nathan Feather CFO, GMP Europe
Atlanta, GA (PRWEB) February 25, 2014
PrimeRevenue, Inc., the industry leader in global supply chain finance solutions optimizing cash flow for organizations, is pleased to announce the appointment of Nathan Feather as general manager for Europe. Mr. Feather will continue to serve as the Company's chief financial officer.
With his new assignment as vice president and general manager Europe, Mr. Feather will be responsible for managing all aspects of the organization's European operations including sales, marketing, and business development activities. He will also manage PrimeRevenue's European service and support teams.
Feather joined PrimeRevenue from Ariba, Inc., where he served as Director of Finance, responsible for New Business Development and Mergers & Acquisitions in Pittsburgh. As finance support he was essential in building Ariba's Supplier Network and turning the business into a revenue generator. Before joining Ariba, Mr. Feather spent several years as Finance Manager for FreeMarkets where he orchestrated the acquisition from Ariba by providing detailed forward looking analysis for the company valuation based on Ariba standards.
"In the current economic climate it is becoming almost mandatory for corporations to ensure that their suppliers have access to low-cost, flexible, on-demand financing. PrimeRevenue's multibank supplier finance programs are experiencing tremendous growth and I am excited about the opportunity to lead the Company's European team to the next phase of growth," said Feather.
About PrimeRevenue, Inc.
For organizations that view their supply chains as a strategic asset and are seeking to increase supply chain efficiency, PrimeRevenue has the answer. PrimeRevenue provides cash flow to more than 13,000 buyers and suppliers through their OpenSCi platform which offers the control and flexibility required by organizations to optimize their working capital and reduce costs and risks throughout the financial supply chain. Headquartered in Atlanta, PrimeRevenue also has offices in London, Paris, Frankfurt and Prague, as well as in Melbourne and Hong Kong, and operates some the largest supply chain finance programs for clients around the globe. For more information or to contact us, please visit http://www.primerevenue.com.