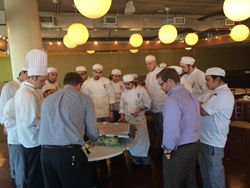 We take great pride in our efforts to bring new and exciting produce to the industry. Each "crop" of culinary students delivers a fresh twist on what's old and new.
San Francisco, CA (PRWEB) February 24, 2014
The focus of the conversation was on new lettuce varieties from Mann Packing, but Brian Bengard of Mann Packing and David Ratto of Daylight Foods delved deeper into best practices for ordering products, sustainability, food safety and labor costs chefs face throughout their careers.
Ratto explained, "We discussed the benefits of using a local company, how our services can be an added value for a chef and how to make the most of a product. In this presentation we focused on Mann Packing's little gem lettuces which were developed not only for taste, but for maximum yield."
Le Cordon Bleu College of Culinary Arts in San Francisco's Chef Damon Barham welcomed the presentation to his students who are nearing the end of their studies. It was important that this presentation not only introduce new products, but also help educate them on what decisions they will have to make as chefs. Throughout the talk, Chef Barham reminded the students that being a chef is often about making decisions for the kitchen, especially about where and what to buy.
"We take great pride in our efforts to bring new and exciting produce to the industry. Each "crop" of culinary students delivers a fresh twist on what's old and new. The opportunity to engage this upcoming talent is priceless," explained Bengard about why it is so important to Mann Packing to be involved with culinary students.
Bengard went on to discuss how Mann Packing takes a lead in discovering new products. "We recognize the importance of innovation in our industry… We place a high level of importance on consumer traits and varieties that surpass the needs of the supply chain. We travel the world looking for the next big thing to bring to the kitchen. "
At the center of the discussion were Mann Packing's Arcadian Harvest™, Better Burger Leaf™ and our newest innovations, Scarlett Butter™ and Honey Gem™. Bengard and Ratto explained the products, their benefits, their history and applications.
The favored portion of the presentation was taste testing. The students brought out black garlic olive oil and Laura Chenel Goat Cheese to pair with the lettuce. Students were presently surprised by how flavorful the lettuce was and opted to eat it plain, without any dressings.
Ratto and Bengard concluded by answering questions from students. A major focus was on sustainability and how distributors like Daylight Foods can help them make decisions, provide grower information and insure only quality products make it into their kitchen. Students were interested in discussing what "local" means. They debated the merits of organic, distance, trucking impacts and growing practices in relation to their idea of local.
Ratto explained, "Daylight Foods is a company dedicated to sustainability and food safety. This applies to not only our own certifications, but how we choose what growers to work with. We have partnered with responsible growers in Northern and Southern California for over 20 years and are proud of the products we supply. "
This was the second culinary school presentation Daylight Foods has participated in and they hope to continue with more. The first was at the International Culinary Center in Campbell, CA in conjunction with Guittard Chocolate.
About Daylight Foods
Daylight Foods is a food distribution company headquartered in the Bay Area. They purchase direct from the most reputable growers and shippers in the industry. Their direct purchasing and high quality standards enables them to continually pass on value to their customers' operations; supplying fresher, higher yielding product. Daylight Foods takes a special interest in local growers and family farms, as well as in "green" technology, to support their local communities and sustainability for future generations.