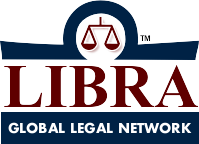 Libra Network aims to unite the entire legal industry of the world on a single platform
New York, NY (PRWEB) February 25, 2014
Libra Network, a new global association and network for attorneys and all other members of the legal industry officially launches this week. The association welcomes the entire legal field including attorneys, law students, academia, paralegals, support staff, legal recruiters, and legal technology providers from around the world. Combining the reach of online media with the power of live personal networking through its' local chapters, Libra Network seeks to deliver global connectivity and useful practical benefits to the entire legal industry of the world.
Libra Network's mission is to bring the global legal industry closer together through collaboration, sharing, exchange of resources online, and live legal networking events and functions designed to facilitate personal interactions and relationship building among legal professionals. The online platform allows legal professionals to communicate and interact on the web by joining geographical chapters, professional type groups, law practice areas, and further encourages members to start their own chapters and groups in their local legal communities. Members are able to create searchable user profiles to highlight their legal careers, engage in group discussions and blogs, and share documents through the resource library. US members can take advantage of one of the nation's largest membership benefits programs with over 100,000 discounts from leading national retailers and companies provided by Abenity. The network is further enhanced by a new powerful stand alone legal career center platform, LexJob.com, that was developed exclusively for Libra Network in partnership with CareerCast, a division of Adicio, Inc.
"As practicing attorneys, we felt that traditional bar associations fell short by rejecting legal professionals such as legal support staff, recruiters, and legal technology companies, who all play a vital role in the everyday practice of law and the future of the legal industry. Libra Network will promote collaboration of the entire legal field, have a global reach, and focus on delivery of real practical benefits and discounts to our members both online and offline," says Val Kleyman, Esq., Founder and CEO of Libra Network.
The key focus for Libra Network is to enable legal professionals to network, advance their careers, obtain business referrals, and build their professional networks in the legal industry through personal interactions. This is accomplished by organizing live monthly legal networking events, practice and profession specific seminars, and social outings in the various local legal communities where chapters are formed.
"Technology may have changed the way people communicate, but it has not changed the way legal professionals earn trust of their peers," says Kleyman. "Fellow attorneys and legal professionals are the best source of business, support, and career advancement in the legal field and Libra Network is here to provide members with ample opportunities to shake hands with their peers and turn connections into personal business relationships."
Libra Network offers several membership options with basic free membership offered to attorneys, law students, and academia, and advanced membership that costs $20 per month and includes free admission to monthly networking events, enhanced benefits, and greater online access. The network also offers a yearly 20% discount on paid memberships and group discounts to law firms and companies that wish to sponsor their employees.
For more information visit http://www.libranetwork.com.