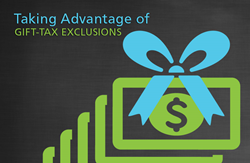 Families with a net worth of $5 million and above should look very closely at taking advantage of these gifts.
Oxford, MS (PRWEB) February 25, 2014
According to the January 28, 2014 article in Financial Advisor Magazine, many of America's wealthiest families took advantage of Congress's increase in lifetime gift-tax exclusion they could give from $1 million to $5 million. (Read the article here: http://www.fa-mag.com/news/tax-free-gifts-quadrupled-after-irs-limit-lifted-16792.html).
"At Addicus, we believe that this lifetime gift-tax exclusion is not just something that should be taken advantage of by the ultra-wealthy," said Addicus Managing Director Stephen Miles. "Families with a net worth of $5 million and above should look very closely at taking advantage of these gifts."
With this increase, there are very creative trust strategies that can be drafted so that the grantors (persons making the gift to the trust) can maintain access to the assets during their lifetime if they ever need them, but can have the value of the gift grow tax-free from an estate tax perspective for generations to come.
"Most people think that if their net worth is below $25 million dollars they don't need this type of planning. Not only can families protect themselves from estate taxes, but they can also very creatively save themselves from other creditors and predators," said Miles.
In 2011 there was a record $122 billion dollars' worth of non-taxable gifts transferred through the tax code change. This number is expected to have risen even higher during 2012, but that data is not yet available from the IRS.
For more information about gift-tax exclusions and how Addicus can help establish a trust strategy, visit http://www.weareaddicus.com or call (662) 550-2051.
About Addicus
Addicus is a full service firm driven by economics, not finance. Our global perspective and approach often challenges conventional wisdom with amazing results. We specialize in providing services usually reserved for family offices of the world's top earners providing our clients a boutique style approach with a personal touch. Addicus' Private Wealth Development services start with a discovery phase by piecing together a full and thorough profile of one's personal and business finances. Leading with your mission statement, Addicus designs and uniquely crafts a playbook to accomplish your goals and initiatives. Contact Addicus today and get started with a playbook of your own. Please visit http://www.weareaddicus.com.