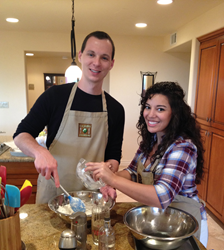 After spending 2+ hours in the kitchen learning and cooking we all sat down for dinner. The food was incredible! Everything was incredibly flavorful and cooked to perfection. Everyone felt extremely accomplished by the end of the evening. -Elana
San Diego, CA (PRWEB) February 25, 2014
The month of February was a whirlwind of events from group cooking classes to celebrations and special occasions. February brought several parties looking to celebrate their special occasions with gourmet food and the unique and entertaining activity found only in Chef Jodi's kitchen.
Two San Diego locals joined Chef Jodi in her kitchen to celebrate Valentine's Day with a bonding experience centered on their love for food and each other. The second party included two married couples visiting from Atlanta and New York, who gathered together in sunny La Jolla for a delicious and engaging birthday celebration.
Along with stirring up romance and friendships in the kitchen, Chef Jodi hosted the second group cooking class of the four-class cooking series for Chai, the young adult group of Congregation Beth El. The group of fun-loving young adults worked together to create a fabulous dinner with a menu influenced by Latin cuisine. Each participant was proud of the work they accomplished and immediately signed up for the next class featuring Lajollacooks4u's specialty: Californian cuisine.
With the month of February coming to an end, Lajollacooks4u is looking forward to upcoming events, including exciting team building events with local and national companies. With Lajollacooks4u's unique team building activity, teams are invited to collaborate in a friendly competition to produce the best dishes of their customized menu, interacting in ways that establish a sense of unity, pride, and enjoyment in their work.
Already three months into 2014, and Lajollacooks4u is still confident that 2014 will be the best year yet.
About Lajollacooks4u
Lajollacooks4u, founded in 2008, provides a unique and intimate activity for couples, corporate team-building, and any foodie looking for a cooking and culinary experience in an ideal setting overlooking the Pacific Ocean. Based in La Jolla, a suburb of San Diego, CA, Lajollacooks4u has enjoyed record growth since its inception and is ranked as a top attraction in La Jolla on the world's largest travel review site, Trip Advisor. For more information, contact Jodi Abel at jodi(at)lajollacooks4u(dot)com or phone 1-858-752-4980.