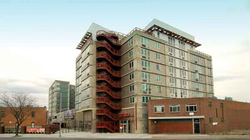 We are delighted to continue to provide our Denver communities with the fastest gigabit internet speeds possible.
Denver, CO (PRWEB) February 26, 2014
FORETHOUGHT.net, one of Colorado's largest independent internet providers, announced today that it offers gigabit fiber internet broadband to multi-tenant buildings including 2330 Broadway, Broadway Plaza in Denver, Colorado.
FORETHOUGHT.net president, Jawaid Bazyar, says "We are delighted to continue to provide our Denver communities with the fastest gigabit internet speeds possible. Our plans are to reduce the digital divide throughout all our service areas for both homes and offices throughout Colorado and New Mexico." Its gigabit fiber internet is priced lower than most current broadband offerings at much lower speeds. Its residential gigabit starts at $70 monthly and its gigabit service for business starts at $200 monthly.
For all its services, FORETHOUGHT.net does not throttle or restrict usage. "We receive daily inquiries for gigabit speeds in specific areas and use that data for each of our new installations." Bazyar said. FORETHOUGHT.net installs its fiber optic cabling to ensure high quality and reliability of the service.
The FORETHOUGHT.net fiber initiative continues to expand in Denver and there is an aggressive expansion plan that includes other cities in Colorado to service those areas much in need of faster internet speeds along the Western Slope and the Front Range.
FORETHOUGHT.net has recently hired Patrick Mann to lead additional fiber build outs in multi-tenant and multi-housing buildings to continue to bring gigabit fiber internet. "We will continue to work with real estate owners and developers to light up entire office, condominium, and apartment buildings with our fiber internet." said Jawaid Bayzar.
To find out more about FORETHOUGHT gigabit fiber and to light up fiber in your building, contact Patrick Mann at 303-815-1000 to express interest for this service in your building.
###
About FORETHOUGHT.net
Since 1995, FORETHOUGHT.net is one of Colorado's largest independent locally owned internet, cloud and communications service provider with offices in Denver, Grand Junction and Durango, offering a portfolio of enterprise-level cloud hosting, colocation, Internet, voice and data solutions. The Denver Business Journal ranked FORETHOUGHT.net as a Top 15 Telecommunications Company and a Top 15 Internet Service Provider. ColoradoBIZ Magazine listed it as one of Colorado's Top 250 Private Companies. BBB.org accredited A+ member.