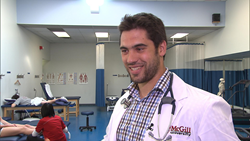 I am very interested to keep track of head impacts during my career (Laurent Tardif - CFL/NFL prospect & Medical Student)
Ottawa, ON (PRWEB) March 05, 2014
As the number 1 ranked prospect for the 2014 CFL draft, Laurent Duvernay-Tardif has also been courted by over 25 NFL teams. The 6'5" and 315lb offensive lineman recently posted an impressive 37 reps in the 225lb combine bench press. Since 1999, only 13 players have managed to achieve more than 40 repetitions. Laurent's strength and agility on the line are not the only reason he has teamed with Shockbox. Laurent is a 4th year medical school student at McGill University with an eye on a sports medicine career after professional football.
"As a medical school student, I am well aware of the potential consequences related to concussions," said Duvernay-Tardif who will be wearing a Shockbox helmet sensor in the 2014 CFL or NFL season. "I am very interested in being able to keep track of the frequency and force of head impacts that I receive during my career."
Dr Julian Bailes is one of the countries most renowned neurosurgeons and a pioneer in the early identification of Chronic Traumatic Encephalopathy (better known as CTE, the signature disease of many former NFL players). As a former team physician to the Pittsburgh Steelers in the 1990s, Dr Bailes is the chairman of the POP Warner Football Medical Advisory Board and a consultant neurosurgeon to the NFLPA. In 2012 Dr Bailes partnered with Impakt Protective to carry out a rarely conducted research study of youth football head impacts using Shockbox sensors. The research was presented in the Journal of Clinical Neurology and Neurosurgery.
"In our 2012 helmet sensor study, everyone got it and realized the benefit of knowing this information," remarked Dr Bailes about the Shockbox technology, "Physicians, athletic trainers and parents are going to want to know how many impacts that brain inside that helmet has had."
Both Laurent Duvernay-Tardif and Dr Bailes join the Shockbox advisory board to guide future helmet sensor research and act as a public face of the technology in the football world. Impakt Protective CEO and CTO, Danny Crossman said, "We are delighted to welcome Dr Bailes to the Shockbox advisory team to contribute to the ongoing helmet sensor research, and Laurent who as a player endorser will be wearing Shockbox and advocating for increased awareness of concussions in football." To avoid conflicts of interest, Dr Bailes will not have a financial interest in his role at Impakt Protective.
About Impakt Protective Inc.
Incorporated in 2010, Impakt Protective is a privately owned high‐tech sensor company located in Ottawa, Canada and the creation of Danny Crossman and Scott Clark. Danny Crossman, a former Army bomb disposal officer and Business Development executive, led the development of numerous life‐saving technologies such as the bomb suit, featured in the movie The Hurt Locker; advanced combat helmets; roadside bomb jammers used by the USMC and recently the Helmet Impact Sensors used by US Army and USMC to monitor mTBI in deployed soldiers and marines. Scott Clark is an active hockey player, coach as well as hockey Dad, and a former software high tech executive with experience in Program Management, Business Intelligence and Operations.