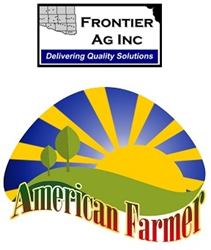 Oakley, KS (PRWEB) February 26, 2014
Frontier Ag, Inc. announced today that they will be featured in an upcoming episode of American Farmer airing later this year on RFD-TV.
Frontier Ag leads agribusiness with financial strength as a progressive cooperative supplier, providing excellent products and services that benefit both the customer and cooperative.
This segment will explore Frontier Ag's full service member-owned agribusiness cooperative, educating audiences on their grain offerings, feed, agronomy, petroleum, shop, and transportation products and services to customers throughout Northwest Kansas.
"Here at Frontier Ag we pride ourselves in the ability to deliver quality solutions to our member owners" said Keith Karnes, Agronomy Division Manager of Frontier Ag. "We are pleased to have this opportunity to showcase our efforts."
Frontier Ag shares in the profits of the company, bringing in sales of approximately $450MM, 52 MM bushels of licensed storage space, with 30 plus locations and 280 employees in Northwest Kansas.
"As a cooperative, Frontier Ag works together to provide excellent products and quality care to their customers," said Ryann Watkin, producer for American Farmer. "Everyone at American Farmer is excited to feature Frontier Ag in this episode."
About Frontier Ag, Inc.:
Frontier Ag, with annual sales of $490 million, is a full-service cooperative, offering grain, feed, agronomy, energy, and transportation products and services to over 5,700 members in eleven (11) counties throughout northwest Kansas.
For more information, visit: http://www.frontieraginc.com or call 785-672-3300.
About American Farmer:
American Farmer is a breakthrough program on a mission to showcase the latest advancements in agriculture and farming. From seed to harvest, livestock and more, our producers have traveled the country covering the people, places and issues impacting all areas of farm country.
American Farmer airs Tuesdays at 8:30am ET on RFD-TV as well as Tuesdays at 12:30pm and Saturdays at 1:30pm ET on FamilyNet.
For more information visit: http://www.AmericanFarmerTV.com or call (866) 496-4065.
Media Contact:
Ryann Watkin, Senior Producer / American Farmer
(866) 496-4065 x 813 / Ryann(at)AmericanFarmerTV(dot)com