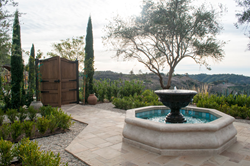 Carpinteria, CA (PRWEB) February 25, 2014
Eye of the Day Garden Design Center kicks off its 16th annual Spring sale with discounts that could waken even the hibernating gardener: from now until March 16, the storefront will offer 15% to 40% off all in-stock items and up to 70% off of seconds and discontinued items.
Deeply discounted items will include Gladding McBean pottery, known for its hand-formed and hand-glazed pottery in colorful, custom finishes that each feature the Gladding McBean registered seal. Gladding McBean birdbaths, fountains, oil jar planters, traditional planters, saucers, urns, pottery feet, and ornaments and accessories may be available, depending on the time of visit. While discounts will vary by the piece, customers may qualify for up to 25% off of the coveted line.
In addition, the following will be for sale:

20% off of all concrete fountains, statuary & pottery
15-20% off Italian terracotta pottery
20% off Greek terracotta pottery
15% off French terracotta pottery
30% off antique Greek Pithari
30% off antique Italian pottery
25% off antique Spanish pottery
More information about the current promotion can be found on the leading garden design center's website, and interested customers can sign up for Eye of the Day's email newsletter to stay abreast of the latest happenings and VIP promotions, UNIQID.
Additionally, should customers be in need of Spring gardening ideas to put any recent purchases to use, Eye of the Day recommends the latest gardening trends that include composting, growing super foods such as quinoa and dandelions in planters, and growing items like grapes and berries that can then be used for home brewing wine and creating custom-blended juices.
Interested customers can visit Eye of the Day's storefront, located at 4620 Carpinteria Avenue, open Monday through Friday from 10 a.m. to 5 p.m. Driving directions can be found on http://www.eyeofthedaygdc.com, or customers can call 1 (800) 566-6500 for more specific information.
About Eye of the Day Garden Design Center
Eye of the Day Garden Design Center is a retail showroom that features more than an acre of high quality garden landscape products, including frost resistant Italian terracotta pottery and fountains, Greek terracotta pottery, French Anduze pottery, and garden product manufacturers from America's premier concrete garden pottery and decoration manufacturers. Eye of the Day is a leading importer and distributor of fine European garden pottery, and caters to private consumers, as well as landscape design and architecture firms from around the world.
To see what Eye of the Day Garden Design Center can do for your business, visit http://www.eyeofthedaygdc.com.