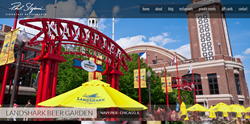 This website is a great display of each of the restaurants and the overall Stefani Restaurant experience. We're very happy with our new website.
Chicago, IL (PRWEB) February 26, 2014
Phil Stefani Signature Restaurant Group launched a new responsive website, designed by Chicago web design firm, Idea Marketing Group. The website is a showcase for the seven signature restaurants and provides visitors an online experience with the same feel as being in the restaurant.
Phil Stefani is a Chicago Italian restaurant empire that has graced the Windy City with authentic Italian fare for over two decades. Each restaurant provides a true Chicago dining experience and dishes up specialties that keep guests coming back.
The hospitality web design created by Idea Marketing Group focuses on delivering an online experience that's enjoyable and easy to navigate for both front and backend users. Because the website was built on Wordpress, authorized backend users are able easily add, update and remove content from the website, saving both time and money.
Viewers can learn about the company and all things Stefani on the 'About' page. Similar to the Pinterest style grid layout, the about page has images and coordinating text that continuously scrolls through all the content. The new Phil Stefani website also has a blog, which serves as a resource to both customers and employees, giving updates on the latest news and promotions at the Phil Stefani Signature Restaurants and things around Chicago. The blog aides in increasing the SEO (search engine optimization) of the website, making the website more visible in related keyword searches on search engines including Google, Bing and Yahoo. Also adding to the user experience, visitors can purchase gift cards through the website and have them shipped to any desired location, they can also check their balances on existing gift cards.
Along the navigation bar there is a 'Restaurants' tab where visitors can interact by making reservations, viewing Chef bios, clicking directly over to the individual restaurant websites and checking out the social media pages for each restaurant including Facebook, Twitter, Google+ and Yelp.
Click here to view the new Phil Stefani Signature Restaurant Group website.