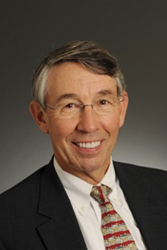 Rockville, MD (PRWEB) February 25, 2014
Is the U.S economy on the mend or is it sliding again? What key trends in the regional and local economies will impact your business in the near term? How will fiscal policy issues, such as sequestration, deficit spending and the new budget, continue to impact the economy?
These are just a few of the kinds of questions that Maryland-based Capital Bank will be working to shed some light on with their next Thinking Ahead Business Series event, to be held March 6, 2014 at the Universities at Shady Grove in Rockville.
A featured speaker at the event will be Dr. Steven Fuller, PhD, the Dwight Schar Faculty Chair at George Mason University and Director of the Center for Regional Analysis. A popular speaker and acclaimed economist, Dr. Fuller is the author of a series of monthly reports on urban and regional economic development of the Washington Metropolitan area and Fairfax County economies, and has served on the Governor's Advisory Board of Economists under Governors Kaine, Warner, Allen and Wilder. He will be focusing on key conditions shaping the regional economy as well as challenges in the coming year and beyond.
Dr. Fuller will be joined by Gary Edmonds, Sr. Vice President, Wealth Management, for UBS Financial Services, Inc., who will share trends and insights into current events in capital markets.
A complimentary event bringing together industry experts to discuss hot topics affecting business owners in the Metro D.C. area, Capital Bank's Thinking Ahead Business Series is the latest offering from a bank dedicated to building strong partnerships with its customers. The National and Regional Economic Outlook: How the State of Our Economy Will Impact the State of Your Business will be held Thursday, March 6, 2014 from 4:00 to 5:30 p.m., followed by a networking session, at Universities at Shady Grove, 9630 Gudelsky Drive, Rockville, MD 20850, Building II. Parking is available in Lot 2 or in the adjacent parking garage.
Given the enthusiastic response to the last event, with nearly 200 participants gathered to explore the impact of the Affordable Care Act, attendees are advised to register in advance at: thinkingahead.capitalbankmd.com.
About Capital Bank
Capital Bank, N.A. is a full service commercial bank in the Washington, D.C. metropolitan area. A top-ranked bank based on performance, it is the only bank in Maryland and Washington, D.C. to make the American Bankers Association Journal (ABA Journal) list of top 100 performing community banks in the class of over $100 Million in Assets. With nearly $500 in assets, Capital Bank offers a full range of banking services including cash management, commercial lending services, residential mortgage and consumer credit. For more information about the Bank, visit http://www.capitalbankmd.com. Member FDIC. An Equal Housing Lender.