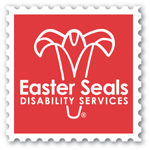 Jessup, GA (PRWEB) March 17, 2014
Easter Seals Southern Georgia honored Wayne County staff, residents, board members and community volunteers during its recent awards dinner held at Sybil's Restaurant in Jessup. Board President, Bob Fox welcomed guests and presented Easter Seals Executive Director, Beth English who provided an overview of services along with the economic impact to the local community. Awards were presented by Sheila Peach, Residential Coordinator and Michele Beverly, Easter Seals Case Manager. Receiving awards were the following:

Direct Support Professional of the Year - Laporchia Thomas
Outstanding Team Player - Jolene Bennett
Distinguished Service Awards -
Altamaha Women's Association
First Baptist Church Special Ministries
ABOUT EASTER SEALS SOUTHERN GEORGIA
Easter Seals Southern Georgia creates solutions that change the lives of children, adults and families with disabilities or special needs by offering a variety of programs and services that enable individuals to lead lives of equality, dignity and independence. For more information, visit us online at http://www.southerngeorgia.easterseals.com or call us (229)439-7061.