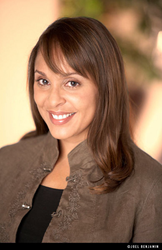 Her poems dig beneath the surface of history -- personal or communal, from childhood or from a century ago -- to explore the human struggles we all face.
Easton, PA (PRWEB) February 26, 2014
Natasha Trethewey, the 19th Poet Laureate of the United States, will give a reading at Lafayette College at 4:30 p.m. on Wednesday, March 12 in the Kirby Hall of Civil Rights, Room 104.
The lecture is free and open to the public. A reception and book signing will follow in the lobby.
Trethewey is the author of four collections of poetry: Domestic Work (2000); Bellocq's Ophelia (2002); Native Guard (2006) – for which she won a Pulitzer Prize – and most recently, Thrall (2012). Her book of creative nonfiction, Beyond Katrina: A Meditation on the Mississippi Gulf Coast, was published in 2010. She is the recipient of numerous fellowships including the National Endowment for the Arts, the Guggenheim Foundation, and the Rockefeller Foundation.
She is the Robert W. Woodruff Professor of English and Creative Writing at Emory University.
In his citation appointing Threthewey Poet Laureate, Librarian of Congress James Billington wrote, "Her poems dig beneath the surface of history—personal or communal, from childhood or from a century ago—to explore the human struggles that we all face."
Now in her second term as U.S. Poet Laureate, Trethewey's signature project is a feature on the PBS NewsHour Poetry Series known as "Where Poetry Lives." In this series, she travels with Senior Correspondent Jeffrey Brown to various cities across the U.S., exploring connections between societal issues and poetry, literature, and her own personal experiences. She also serves as the State Poet Laureate of Mississippi.
This lecture is sponsored by the Friends of Skillman Library.
###
Photo © Joel Smith
Higher resolution image online: http://flic.kr/p/kqDvDy
Lafayette is a highly selective, national liberal arts college in Easton, Pa. with 2,400 students and 215 full-time faculty, offering a wide variety of undergraduate degree programs including engineering.
Kathleen Parrish
Associate Director of Media Relations
Lafayette College
Communications Division
Easton, PA 18042
http://www.lafayette.edu