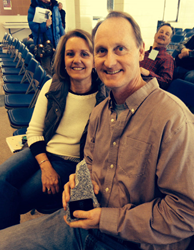 'It's a nice gesture of the Londonderry Town Council,' said Rimol, 'I was a little taken aback and pleasantly surprised at the same time.'
Londonderry, NH (PRWEB) February 26, 2014
Bob Rimol's active role in opening Londonderry's Rail Trail led to unanimous honors as the town's 2013 Citizen of the Year. His commitment and leadership has rejuvenated the project and will cover 6.2 miles of the 100-mile trail that is open to cyclists, walkers, runners, and rollerbladers.
"It's a nice gesture of the Londonderry Town Council," said Rimol, Owner/Founder of Rimol Greenhouse Systems. "I was a little taken aback and pleasantly surprised at the same time. It struck a chord in me given the hundreds and hundreds of hours I've put into the town."
Rimol first joined Londonderry Trailways in 2010 and is responsible for placing the $227,000 warrant article onto the March 2013 town ballot, which voters later passed. The Rail Trail is designed to start in Salem and finish in Lebanon with about 30 miles of the trail being paved. Londonderry's 6.2 mile leg is the largest of any NH town that the trail runs through.
"Every step along the way involved a lot of meetings and cleaning up of the actual trail corridor," Rimol said. "Early on, there was a lot of grunt work and behind the scenes stuff going on with state officials. I just think these trails are great -- they have beautiful surroundings and are worth the effort."
The first mile of Londonderry's trail was completed this past year and within budget. It fills the missing link between Derry and Manchester. Rimol knows he sparked project interest but made it clear to thank the many supporters who helped in making the venture possible.
"We observed what Bob had accomplished," said John Farrell, one of the five Londonderry Town Council members on the voting committee. "This honor doesn't represent what he's done for just this past year -- it's everything."
That includes voluntarily serving as Facilities Manager of the Londonderry Athletic & Field Association (LAFA) since 2006. Rimol manages the maintenance and safety responsibilities for the 11-field complex that is home to over 1,000 youth baseball and softball participants. Some fields received light installation in making LAFA one of the premiere sports complexes in the Granite State.
"I just really like the job a lot. There's something about going to the fields and being engaged in all the projects," said Rimol. "I've been very blessed to be surrounded by the people at LAFA and the people at Londonderry Trailways to make what I do very enjoyable. I love Londonderry and I love New Hampshire."
While serving as Londonderry's Town Manager for just six months, it didn't take long for Kevin Smith to see what Rimol brought to the table.
"Given the fact that he's only one person and he's accomplished so much in so little time is just impressive," he said. "He's exactly what you want as a citizen of Londonderry. He's passionate and he's a team player for the town."