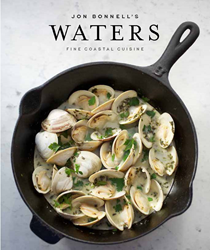 This book will ease the intimidation of working with seafood.
Fort Worth, TX (PRWEB) February 26, 2014
Acclaimed Texas chef Jon Bonnell has both a passion for sport fishing and maintaining a market for sustainable wild seafood that is evident in both his aptly named restaurant, Waters - Bonnell's Coastal Cuisine, in Fort Worth and in his forthcoming cookbook available March 1.
Coinciding with the first anniversary of his seafood restaurant, is the release of his third collection of original recipes. Waters Fine Coastal Cuisine is an impressive cookbook filled with gorgeous photography and more than 100 recipes that showcase the ocean's bounty. While well known for his culinary skill in preparing wild game with a Texas twist, Chef Bonnell shows his mastery of the art of cooking seafood. Throughout the book, he skillfully educates the reader on a variety of seafood preparations which can be daunting for many who love to eat fish but who dare not attempt cooking the catch-of-the-day themselves.
Chef Bonnell shares his vast knowledge and experience preparing seafood, demystifying it in a way that makes it just as approachable as buying a cut of meat and cooking it at home.
Water, in any form, has always been Bonnell's favorite playground. By age six, he could catch and clean his own trout. Today, whether he's standing knee-deep in a tumbling mountain stream in search of trout, or scanning the endless horizon from a flats boat for migrating tarpon, Bonnell is always planning his next fishing trip.
In all of the Chef's dealings with fishermen, various seafood purveyors and suppliers across the country, his mission has always been the same: find the highest quality and freshest seafood for his customers while doing his best to support American fishermen and protect wild fisheries.
The cookbook pays homage to "what's fresh" and starts off with a tasty selection of Chilled and Raw recipes such as Ceviche of Grilled Striped Bass and Oysters on the Half Shell with Southwestern Serrano Sauce. Bonnell teaches how to home cure smoked salmon and smoke a trout. From the visually appealing Seared Tilefish with Tarragon Cream Sauce to comfort food favorites like Crawpuppies or Lobster Mac and Cheese, each recipe provides something for the novice to the ambitious cook.
Waters Fine Coastal Cuisine will be sold at http://www.waterstexas.com, throughout Texas at Central Market Grocers, and nationwide at Barnes and Noble (in store and online) and other fine retailers. Suggested retail price is $35.
About Jon Bonnell: Chef Jon Bonnell pairs his native Texas heritage with classic culinary training to create inventive and delicious dishes featuring decidedly Texan ingredients to inspire the palate. Distinguished as one of the foremost experts on fine wild game and Texas Cuisine, his innate understanding of flavor combinations and perfected techniques entices diners to experience new culinary creations. With a passion for sharing knowledge with others, there is never a technique or recipe he won't share. Visit Chef Jon Bonnell's websites at http://www.bonnellstexas.com and http://waterstexas.com to learn about his cookbooks, product lines and visit his restaurants Bonnell's Fine Texas Cuisine and Waters - Bonnell's Coastal Cuisine in Fort Worth, Texas.