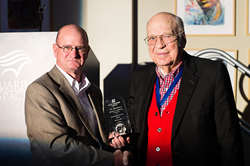 Long Beach, CA (PRWEB) February 24, 2014
The U.S. Grains Council honored Owen Newlin with a tribute award for a lifetime of distinguished achievement and service to the Council during its 11th International Marketing Conference and 54th Annual Membership Meeting.
Newlin's commitment to the Council spans 40-plus years and he served as Chairman in 1979. His influence runs deep and includes: shifting the Council from a purely agribusiness organization to involve producer organizations; expanding the universe of seed companies to participate in the Council; creating the Pioneer Fellows Leadership Development Program; establishing the Agribusiness Coalition to help influence the continued funding of the Foreign Market Development program; and contributing to the International Collegiate Agricultural Leadership (I-CAL) program.
Among those who paid tribute to Newlin were Alan Tiemann, current USGC Secretary/Treasurer, Paul Schickler, DuPont Pioneer President, Terry Vinduska USGC past chairman, Larry Groce, USGC past chairman and Craig Floss, USGC state checkoff director.
"I often refer to Owen as 'the godfather' of the Council," said USGC President and CEO Tom Sleight. "He was the driving force behind so many of our principles and current structure and his contributions cannot be understated."
Newlin recognized the importance of the Council being a diverse organization and bringing producers, agribusiness, industry and the U.S. government to the same table. He helped create the corn checkoff program and enabled expanded funding.
His belief in young adult education, leadership development and international relations drove the creation of the Pioneer Fellows Program targeted at future grower leaders, who grain invaluable first-hand experience and exposure to the international marketplace.
-30-
The U.S. Grains Council is a private, non-profit partnership of farmers and agribusinesses committed to
building and expanding international markets for U.S. barley, corn, grain sorghum and their products. The
Council is headquartered in Washington, D.C., and has nine international offices that oversee programs in more than 50 countries. Financial support from our private industry members, including state checkoffs,
agribusinesses, state entities and others, triggers federal matching funds from the USDA resulting in a
combined program value of more than $26.5 million.
The U.S. Grains Council does not discriminate on the basis of race, color, national origin, sex, religion, age, disability, political beliefs, sexual orientation or marital/family status. Persons with disabilities, who require alternative means for communication of program information, should contact the U.S. Grains Council.