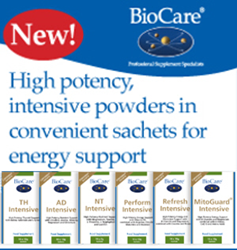 (PRWEB UK) 26 February 2014
Low energy levels are one of the most common complaints among adults in the UK today. There are a large number of factors that can contribute towards lowered energy including lack of sleep, poor diet, stress, nutritional deficiencies, adrenal fatigue, thyroid disorders and many others. With this in mind, BioCare have produced their new Optimum Energy Range of supplements, designed to provide multiple system support to help enhance energy, boost nutrient delivery and also provide the body with important antioxidants.
BioCare are a UK nutritional supplement company founded by health practitioners who produce a unique range of quality supplements, and are well respected and recommended by nutritional practitioners. BioCare's new range comprises the following 6 products, all supplied in convenient sachets that taste great and can be easily mixed into liquid:
TH Intensive - Provides a unique formulation including iodine and selenium to help support thyroid function.
AD Intensive - Designed to support adrenal function including citrulline, licorice, ginseng, magnesium and chromium.
NT Intensive - A combination to help support the nervous system and aid relaxation.
Perform Intensive - A unique formulation to aid circulation and the delivery of nutrients. May be particularly useful prior to exercise.
Refresh Intensive - A combination of ingredients to provide energy and electrolyte support. May be particularly useful after exercise.
MitoGuard Intensive - Designed to support cellular energy production, especially in relation to mitochondrial function.
The entire energy range is supplied in either 14 or 28 sachet packets and can be used singly or in combination with one another.
At Your Nutrition Shop we supply all BioCare products at up to 25% off RRP with our Multi-Purchase Discount scheme, and free delivery is available on all UK orders. You can also earn Reward Points on every purchase that can be redeemed at any time for money off future orders. You can purchase your supplements online via our store at http://www.yournutritionshop.com/products/c481-Energy-Formulations/ or via telephone on 01494 637806. You can email us with any queries at enquiries(at)yournutritionshop(dot)com.