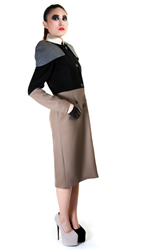 Reece has won many awards and her career is promising in the fashion industry.
Boston, MA (PRWEB) February 26, 2014
FashionLabel.com, the leading website for emerging fashion designers, and fashion enthusiasts is proud to debut the Reece Curtis-Walwyn collection.
"We're thrilled to be taking orders on these exquisite designs on FashionLabel.com," says FashionLabel founder Reginalde Messac. "Reece has won many awards and her career is promising in the fashion industry."
Her collection offers a range of structured and tailored garments with an edgy twist, influenced by contortionism and understanding the body and how it can portray certain shapes in certain positions. The designer's collection draws inspiration from a two pound motto, "standing on the shoulder of giants," which led to her research into a documentary called Nina Conti—A Ventriloquist's Story: Her Master's Voice, while discovering theory and methods behind ventriloquism.
Curtis-Walwyn is a young designer from London who graduated from Ravensbourne College of Design and Communication, with a BA Fashion Womenswear degree. Her work has been featured in publications across the globe, including The Daily Express, The Mercury and Bricks Magazines.
Fashion forward customers can shop the collection online at http://www.fashionlabel.com/gallery/reece-curtis-walwyn-fl.html/.
About FashionLabel.com
FashionLabel showcases the hottest designs by emerging fashion talents. Fashion enthusiasts and consumers can discover the latest trends and shop for amazing fashion pieces in one central hub. Several fiercely creative designers have joined the FashionLabel community such as Danle Ding, Dora Yim, Jegman, Misile NY, and April 2nd. More fresh talents are coming onboard to showcase their fabulous creations. Fashion students, emerging designers, and fashion enthusiasts can find out more about the company, its products and services, by visiting http://www.fashionlabel.com.