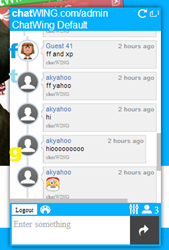 Boston, MA (PRWEB) February 25, 2014
The Message tab now covers everything about the content of the chat software. As such, it is now divided into several tabs that will provide the user with these kinds of customization options. Currently, this tab has seven sub-tabs in all.
Of the seven tabs, the Content tab is different. Because of the sheer number of options inside this tab, two sections of this tab, the General Options and Chat Box Font has the option to be minimized. By minimizing, the users will only be able to view only the important customization options. The rest of the options will be shown by clicking on the Expand button right beside the section name – clicking this button will minimize it again.
The most notable change in the Message tab is that it now allows certain parts to be applied with unique background images. These parts are the message bubbles for the normal chatters, the Moderators and the Administrator. Along with this is the Transparent Function which can also be found on the Chatbox tab. This function will make the message bubbles go transparent or basically colorless.
The rest of the options include the functions that were already there before like the Rich Text Editor and the Load more settings and still work the same. All in all, these options will provide a more thorough way of customizing the chat room software which will easily fit in with anyone's preferences.
About Chatwing.com
Chatwing.com is a company that has brought innovation to the modern chat widget. Operating for more than five years now, Chatwing and its team of developers have dozens of ideas ready to be introduced to the public. The Chatwing chat app is an easy-to-use online tool that can help web users interact with each other and can also generate continuous traffic. Chatwing will always be a freemium application for everyone.