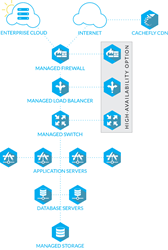 "Having ServerCentral manage our infrastructure allows us to focus on what we know best, and rely on ServerCentral for everything else." said Chris Nagele, Wildbit CEO
Chicago, IL (PRWEB) February 25, 2014
ServerCentral, an IT infrastructure solutions provider, will introduce its new Infrastructure as a Service (IaaS) and Cloud-Enabled Colocation solutions at this week's Channel Partners Conference & Expo in Las Vegas, NV.
For the past 14 years, ServerCentral has helped industry-leading companies solve mission-critical IT infrastructure challenges. These new solutions are designed to share this experience and help companies quickly and cost-effectively manage core IT infrastructure requirements.
"Our customers' needs and business problems have always driven our offerings." said Jordan Lowe, ServerCentral President/CEO. "Infrastructure solutions are unique, so what is best for each customer depends on their business processes, applications, data and stage of development. These new solutions represent common starting points we've identified and are a way to help each customer quickly find the right solution for them."
ServerCentral's IaaS offering is a turnkey solution that includes every aspect of infrastructure that a company needs to run their business. ServerCentral IaaS solutions provide scalability and 100% uptime with flexible hardware, storage, bandwidth and networking options. Hardware is owned and managed by ServerCentral's team of experts - including firewalls, load balancers, switches, servers and storage.
"Having ServerCentral manage our infrastructure allows us to focus on what we know best, and rely on ServerCentral for everything else." said Chris Nagele, Wildbit CEO. "We've seen a huge increase in hardware performance and have saved money at the same time."
ServerCentral is also introducing a Cloud-Enabled Colocation solution. In addition to ServerCentral's standard colocation features, access to the company's Enterprise Cloud is now included for all colocation customers.
"It's not an either-or proposition. Rather, hybrid infrastructures are proving to be the right solution for many of our customers." said Peter Berg, Senior Vice President Sales & Marketing. "Our Cloud-Enabled Colocation gives our customers space and power now, with linkages into our cloud and IaaS offerings as their business needs evolve."
ServerCentral provides flexibility by offering a complete product continuum including colocation, managed services, IaaS, and public and private clouds. This flexibility is architected into the company and its solutions because technology and business needs change rapidly. ServerCentral customers can easily add managed services or dedicated hardware, increase power or bandwidth, or spin up clouds as needed to meet their requirements.
"ServerCentral is highly responsive to all of Pursway's needs and requirements." said Gabi Kazav, Pursway Infrastructure and Big Data Team Leader. "They are a strategic partner and provide us best in class facility management and uptime."
ServerCentral's solutions are available through its direct sales team and master agents.
About ServerCentral
ServerCentral is an IT infrastructure solutions provider. Since 2000, leading technology, finance, health care and e-commerce firms have put their trust in ServerCentral to design and manage their mission-critical infrastructure. With data centers in North America, Europe and Asia, ServerCentral works with customers to develop the right solution for their business. Whether it is colocation, managed services, Infrastructure as a Service (IaaS) or cloud, ServerCental designs the optimal solution for each client. Learn more at http://www.servercentral.com, or contact us at +1 (312) 829-1111, sales(at)servercentral(dot)com.