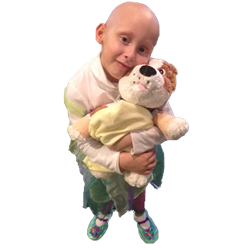 Each year, there are 20 million children who are hospitalized with a life-threatening illness & nearly 8 million have no family or friends to visit them.
Thousand Oaks, CA (PRWEB) February 26, 2014
Everyone's favorite FURiend, Owie BowWowie is crowdfunding to raise money for their special project: The 25th of Remember.
Every year there are 20 million children who are hospitalized with a life threatening illness and nearly 8 million of these children have no family or FURiends who are able to visit them.
For this reason, Owie BowWowie and Friends Foundation has created a stuffed, plush toy named Owie BowWowie, who is 100% "FUR-REAL", and was created to be given to a hospitalized child who is waiting for their FUR-EVER friend. Owie is a hospital approved, therapeutically designed 12" Owie, and comes complete with a soothing mini-blanket, custom storybook, reusable carrying bag, and is delivered with a PAWsitive hug to a hospitalized child.
To make giving PAWsible, they have opened a unique store that allows people to shop for the benefit of giving! The 25th of Remember is because not everyone will get a 25th of December. It's a unique store, located in Thousand Oaks, CA and was created as a special place that provides comfort to the community. It offers new and gently used items that are available for purchase. It is a cozy space that is ideal for groups or non-profits to meet or have a cup of tea.
The campaign for crowdfunding is focused on covering the rent for The 25th of Remember. Then, all the sales can go to providing Owie BowWowie Comfort Companion Gift Sets, because no child should ever be hospitalized and alone.
Please visit their Crowfunding campaign at http://www.youvegotfunds.com/profile.php?pid=239.
YouveGotFunds.com is a Crowdfunding website designed to help raise money for charitable causes, new start-ups or creative projects.
Questions? Email info(at)youvegotfunds(dot)com or call 818-569-3018.