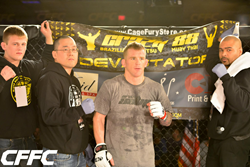 "I also broke my thumb with the very first punch I threw in the fight"- Jon Delbrugge, MMA Fighter
Ellicott City, MD (PRWEB) February 25, 2014
Professional Mixed Martial Artist, Jon "The Devastator" Delbrugge, stepped into the cage on February 22nd to face off against Stephen Singleton at the 32nd installment of the Cage Fury Fighting Championship.
Delbrugge, a native of Ellicott City, Maryland, weighed in at 157 pounds for the catch-weight bout. The first round consisted primarily of striking with Singleton throwing more kicks and Delbrugge looking to land punches. Delbrugge managed to take Singleton down near the end of the round and landed some effective ground and pound which caused swelling above Singleton's right eye.
In the second round, Delbrugge utilized his wrestling to take Singleton to the ground repeatedly before finishing the fight with a choke. Delbrugge improved his record to four wins and 1 loss, with all four wins by way of finish.
Delbrugge first began training at Crazy 88 approximately 6 years ago. Since that time he has become a professional MMA fighter as well as a Brazilian Jiu-Jitsu Brown belt. He currently trains at Crazy 88 - Elkridge and operates the school's second location, Crazy 88 - Owings Mills.
It was not an easy road to the fight.
"I signed four contracts for this one fight. Opponents kept dropping out and getting injured so it was very up and down for me. I also broke my thumb with the very first punch I threw in the fight," says Delbrugge. "I'm very happy to get the win and keep working towards getting into the UFC."
Crazy 88 is a Mixed Martial Arts program that offers training for adults as well as children in three locations throughout Maryland. For more information Jon Delbrugge and Mixed Martial Arts competition training, please visit http://www.Crazy88BJJ.com or call (443) 283-1450.
About Cage Fury Fighting Championships. CFFC is an American mixed martial arts (MMA) promotion. Founded by Felix & Amy Martinez, the promotion promoted in Atlantic City, NJ. The promotion has featured many Ultimate Fighting Championship (UFC) veterans, including fight commentator Dan Severn, as well as appearances by Evan Tanner, Kimbo Slice, Frank Shamrock, and Homer Moore. A number of former champions (Carmelo Marrero, Jim Miller, Dan Miller) have appeared or currently appear in the UFC.