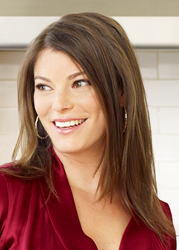 Roslyn, NY (PRWEB) February 26, 2014
Gail Simmons, judge on Bravo's Top Chef, will host Sid Jacobson JCC's 19th Annual Auction for Excellence, An Epicurean Event. The event will take place on Thursday, March 20 at Glen Oaks Club (175 Post Road, Old Westbury, New York 11568). Tickets are now on sale. Proceeds benefit vital social service programs and scholarship opportunities at the JCC.
The 19th Annual Auction for Excellence, An Epicurean Event will once again feature samples from the area's best eateries, including 388 Restaurant, Abeetza Next Door, Bagel Boss, Bar Frites, Café Continental, Cakes with Character, Centro Cucina, Cipollini, Coffee Distributing Corp., Galleria Ristorante, Glen Oaks Club, Heavenly Tea, Hendrick's Tavern, Il Mulino, Joseph Craig Caterers, La Bottega, La Bussola, La Ginestra, Mitch & Toni's, Mim's Restaurant, Nine Cakes, Nisen Sushi, Pearl East, Rothmann's Steakhouse, Seasons 52, Stresa, Trattoria Di Meo and Zaro's Bakery.
A night of food and fun, the Auction for Excellence, An Epicurean Event brings together flavors of the area's best gourmet restaurants and the excitement of Live and Silent Auctions. The evening benefits essential programs for those going through life crises, including cancer, loss of a job and caring for those with autism or Alzheimer's or related dementias. The JCC will never turn away anyone in need of assistance and provides vital scholarships to individuals and families in the community.
For more information on the 19th Annual Auction for Excellence, An Epicurean Event or to register for the event, contact Bridgette Adair, Development Coordinator, at 516-484-1545, ext 141, badair (at) sjjcc (dot) org or visit http://www.sjjcc.org/auction.